We are very excited to announce that we are in a competition to receive a $100,000 grant from the Chase Mission Main St Grants. This grant would be a tremendous help to our company as we grow our offices in Columbia and Kansas City. The funds would be put towards purchasing and upgrading equipment, staffing needs, and ultimately enabling us to better help our small businesses grow.
In order to advance to the next stage of the competition, we need to collect 250 votes from supporters like you. Voting is very quick, but we do include instructions below for your convenience. Thank you in advance for your vote and continued support of our company!
How to Vote
To cast your vote, click on this link to vote now or visit https://www.missionmainstreetgrants.com/b/30569
When you arrive at Igniting Business's Mission Main St. profile, you'll see a Vote Now button to the right of our profile's information, and if you're ready to vote you can go ahead and click on that button.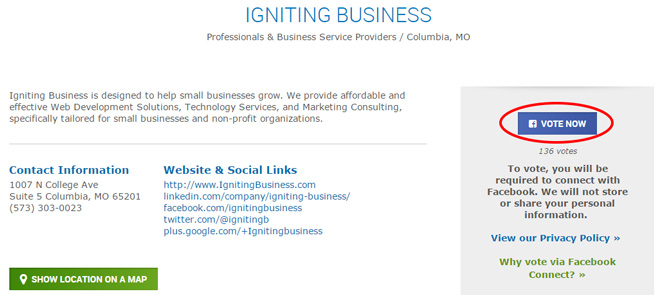 Next, you should see a pop-up window on your screen. Within this window, you will need to log into your Facebook account if not already logged in, and you will then be asked to allow Chase to see your profile. For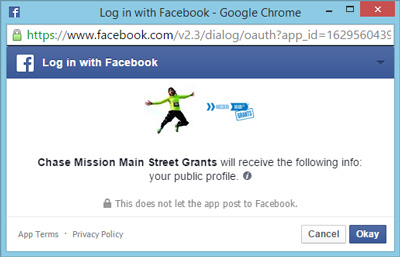 the sake of the competition, you need a Facebook account to vote and allow Chase to view your profile. We're extremely pleased that Chase does not request access to your Facebook friend's names, friend's profiles, your pages, or any other information, and you can read more about Chase's privacy here if you have any concerns.
Once you've accepted the terms, your vote will be cast. Another pop-up window will appear asking you to take a survey, and you can fill out the survey or click "No Thanks" to skip it.
We ask that you only vote once, and even if you have multiple Facebook accounts, we still ask that you only vote with one account as to abide by the competition's rules.
Share Your Vote!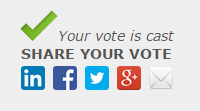 If you voted for us, thank you! We genuinely appreciate it, and we can't do any of this without you. To help get the word out, you can share your vote by clicking on the social media icons below the green check mark noting your completed vote.
An even better way to help is to share this blog, and we'd love for you to tag us in your posts, tweets, and/or shares. You can stay tuned to Igniting Business's status for the grant on our Facebook, Twitter, LinkedIn or Google+ pages.
Again, we're thankful for your support, and we really can't do this without you. Thank you.