Content Management Systems (CMS)
Did you know that using a Content Management System (CMS) makes managing your website easy and simultaneously reduces the ongoing cost of using web designers.
Keeping Your Website Up-To-Date
It is well known that once you create and publish any work, it will not be long before you want to change or update it. In the online realm, this is known as web management or web maintenance. There are several different forms of web management utilized by companies. Some companies (typically larger organizations) hire web designers full-time in order to handle all website changes. Others contract out to web design companies on a monthly or quarterly basis allowing for a flat price or set amount of hours to be worked per period. However, due to the irregularity and unpredictability of a company actually wanting to update its website, most tend to pay a designer on an hourly basis.
The Small Business Webmaster Problem
Small businesses can rarely afford hiring a web developer to work exclusively or part time for their company, and often times they also do not have consistent enough changes to justify monthly or quarterly web maintenance packages, costing them money in the long run. Instead, they turn to paying their designer an hourly rate. This can be the best way to go if you actually have a large amount of changes at once that the designer can focus on. But say you simply have a paragraph to change here or there, an update to the news and announcements section, or a few pictures you want to swap out. If you call up your designer to change a few paragraphs, it will most likely only take him a short period of time; however, the bill you receive more than likely will end up being rounded to the nearest half-hour, which can put a dent in your wallet as these changes add up over time. Also, sometimes there are delays in the turnaround time as your development firm is undoubtedly handling numerous clients at once.
Is there a better alternative for small business wanting to keep their site up-to-date at a low cost? Absolutely!
Content Management Systems - the Economical Solution
Check out the questions below that we often receive from potential clients looking to start using a CMS.
What Is a Content Management System?
A content management system is a custom designed, advanced database-driven, online system that streamlines web management. What does that mean in English? A content management system is built into your website so that you, the client, have the ability to securely log in to your website and edit the text content and basic images via an editing platform that is designed to operate in a similar manner as Microsoft Word. You simply click edit on the page that you want, update the content, save your work, and your site is updated without any programming knowledge! You can edit at whatever time you want, however often you want, and with no recurring fees! This creates an unparalleled amount of freedom and flexibility on your website, and guarantees your ability to keep your content up-to-date while minimizing the cost of ongoing web designer fees.
Take a look at how fast we edited the Web Hosting page of this site using our content management system. If you have any further questions about our content management system or would like to see a demo, please contact us today.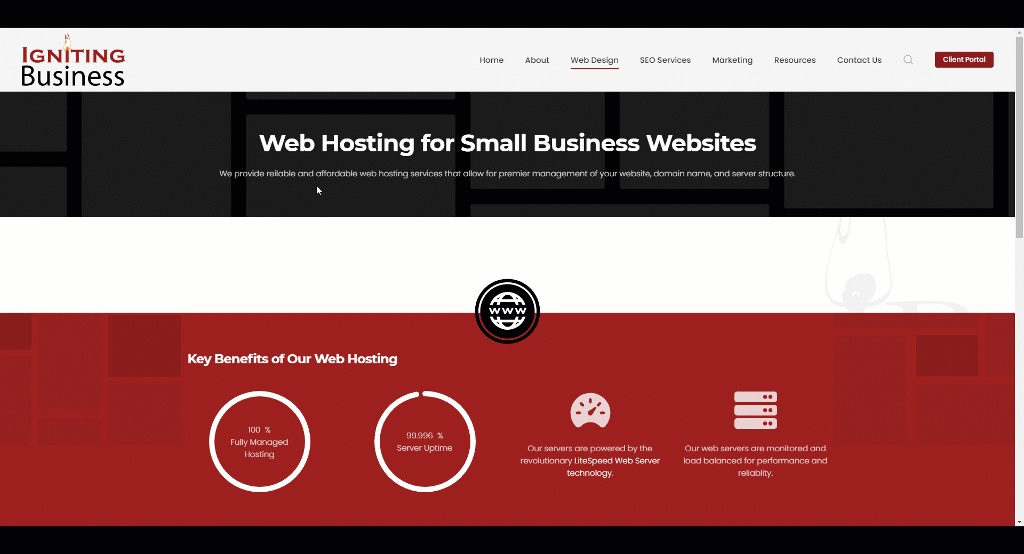 Ready to Discuss Making Your Website Way Easier to Update?
If you'd like to discuss the benefits of designing your website on a powerful Content Management System (CMS), feel free to reach out to our team of experts for an initial consultation.
Don't Have the Budget to Hire a Professional?
We understand that hiring a professional website design firm to design and setup your website can be an investment. As such, if you're a do-it-yourselfer, use the link below to browse tools we recommend to get your feet wet!