2 minutes reading time
(477 words)
4 New Features in Microsoft Office 2016 that Save Time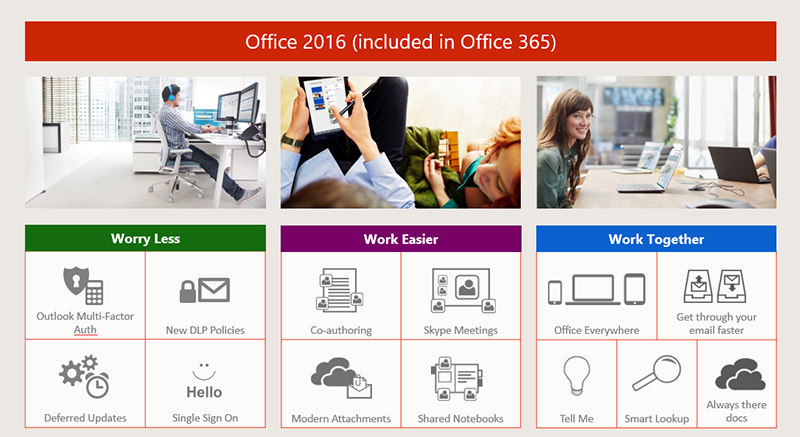 As you may have heard, Microsoft released Office 2016, and, recently, it has become available for download with existing Office 365 customers. If you think Office 2016 looks very similar to Office 2013, you're quite right. At first glance, the changes are not necessarily very obvious in a visual nature. However, some of the new features in Microsoft Office 2016 can be significant time savers for small businesses, and the improved sharing and the integration methods can help your business collaborate at big business levels. Below we've identified four new features in Office 2016 that we think small businesses will appreciate:
Tell Me
This new feature helps you discover how-to perform a task within the program even if you don't know the

question to ask. In the area that says "Tell me what you want to do," type what you are trying to accomplish in the command box, and you'll get back a dynamic selection of ways to do it.
Smart Lookup via Bing
The Smart Lookup feature is designed to provide you with pertinent research information from Microsoft's Bing search engine without ever leaving the Office program. All you have to do is highlight a word or phrase, right-click on your highlighted text, select "Smart Lookup, and pertinent information will appear on a sidebar.
Improved Outlook Integration
When writing an email to a client, how many times have you selected the attach file function in Outlook and tried

remembering where exactly you saved the document you were just working on? Now, when you add an attachment, you get a list of the documents, images or other files you've worked on most recently. This is a definite time saver and speeds up the workflow from file creation to distribution.
Sharing and Collaboration from within the Program
PowerPoint, Word and Excel now have a Share button at the top right of your working window. Selecting this option allows you to immediately share the file via OneDrive. You can simply enter email addresses for those you want to share the file, and set their permission levels, whether that's editing or simply viewing the file. The built-in sharing option also allows multiple authors to open and edit the files simultaneously for live collaboration.
Questions on Next Steps for Upgrading
Upgrading to Microsoft Office 2016 from 2013 certainly can yield benefits. If you're still using Office 2010 or older, you will notice even more dramatic improvements. However, before you upgrade, you'll want to make sure that all your programs and add-on extensions are compatible with the new Office programs. This certainly includes, but is not limited to, your accounting software, calendar sync utilities, email configuration, version of Windows, etc. If you're considering making the switch, or want to learn more about the new features, feel free to contact us today. We would be happy to answer questions and provide additional information.