3 minutes reading time
(569 words)
Budgeting for IT Upgrades: Plan Now or Potentially Spend More Later
According to Nicole Fallen Taylor, Business News Daily Assistant Editor, "a 2015 survey by small business credit provider Headway Capital found that although 57 percent of small business owners anticipated growth this year, nearly 19 percent expressed concern about how unexpected expenses would impact their business." Many circumstances can lead to indirect business costs, but failure to maintain technology can often be a leading cause of these types of surprises. Developing a strategic technology plan and budgeting for IT upgrades will help ensure funds are available to maintain assets and promote smooth transitions.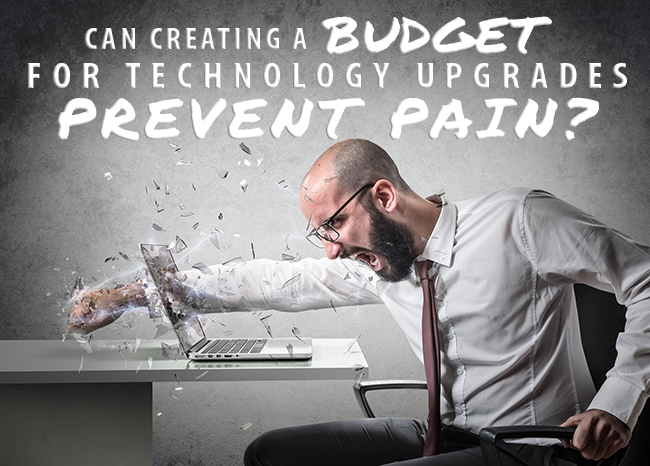 Understanding Software Versus Hardware Technology Upgrades
As a point of reference, a hardware upgrade improves performance while a software upgrade generally refers to major augmentations that add significant changes to a program. While upgrades to hardware and software are frequently independent from one another, often times, older hardware is not compatible or robust enough to handle new software thus prompting hardware upgrades as well.
Software will also eventually reach its end-of-life and no longer be supported by the vendor, which leads to performance and functionality issues, as well as security concerns. Neglecting to budget for these life-cycles could result in system downtime, failure to meet compliance regulations, and lost productivity due to time spent troubleshooting failed equipment. Hence, the recommendation is to plan for technology and upgrades to ensure compatibility and maximum functionality. Increased performance, capacity, stability, and functionality are ultimately the benefits.
Where Should Small Business Owners Start?
Just as you would create a business or marketing plan, so too should you construct a master plan for technology. Your budget should take into account employee and company growth, industry tools' recommended system requirements, unexpected maintenance on existing systems, and the retirement of dated or malfunctioning systems.
Your technology plan should also be based on company's need for efficiency. Identify recurring problems and areas where repetitious work is often seen – then consider how technology might be able to streamline the processes. Many companies fail to recognize that upgrading technology can lead to efficiency gains that outweigh the cost of the equipment and implementation. This is an area where talking to an IT consultant may be valuable.
Base your technology investments closely upon your sales and cash flow cycles to avoid overstraining cash flow. For example, you might not want to make large technology investments in the absolute lowest months of sales when cash flow is typically at a slower velocity. Likewise, you might not want to upgrade your technology in the very peak of your season due to the learning curve and training new technology may require initially.
The technology upgrade plan should support business strategy and goals as well as guide technology buying decisions to avoid wasting money on unnecessary procurements and quick fixes. Recognize that time is money – any time spent fighting slow resources, troubleshooting breaks, or incompatibilities has an associated tangible cost. This cost is affecting your bottom line, whether it is recognized or not.
In summary, it is crucial to make a technology plan and budget for IT upgrades. It warrants that a company's employees have the tools they need to do their jobs now and in the future with minimal, if any, disruptions to productivity. In the words of Ben Franklin, "An ounce of prevention is worth a pound of cure."
If you would like assistance in planning and budgeting your IT upgrades, contact us for a consultation.