2 minutes reading time
(335 words)
Critical Internet Explorer Security Patch Released - Update Required

Most likely, you have heard some news about the recent security concerns regarding Internet Explorer. You usually don't hear this much talk about most software bugs, but this one is quite serious. There are a lot of people who use IE, and all those users are extremely vulnerable. Last week, the Department of Homeland Security warned against using IE until the bug was fixed. For those who want all the details, Microsoft has posted an official report: https://technet.microsoft.com/en-US/library/security/2963983. The main thing you should know is that someone could remotely execute arbitrary code when you view a well-crafted web page or email. Eventually, this can lead to your entire system being compromised. That means all your information can be easily stolen if your system is successfully attacked.

As of Thursday May 1, at 12pm Central Time, there has been an update for IE that fixes this bug. If you have automatic updates, your system will most likely have already received this update. However, it is encouraged that you manually check to make sure that your computer is up-to-date. If you are unsure how to manually choose updates in Windows, then you should refer to these instructions: http://helpdesk.wisc.edu/page.php?id=2121.
Special Note: Windows XP Users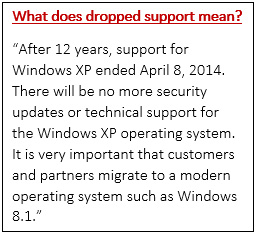 Windows XP computers are primarily at risk because Microsoft is no longer supporting Windows XP. Fortunately, Microsoft decided to issue a security update for XP users along with Windows 7 and 8. Even before this incident, XP became a liability after support was dropped. So, now more than ever, it is strongly recommended that all XP users look into upgrading their operating system as soon as they can.
Once again, make sure to keep an eye out for any browser updates for IE. And as a permanent tip, don't be too quick to click on ads and links that seem suspicious. "Surfing" the web is always a risky thing, but you can be smart when using the web. If you have any other questions or concerns, feel free to contact us at Igniting Business.