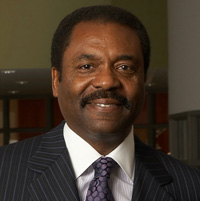 David Steward, Founder and Chairman of Worldwide Technology, will be speaking at the University of Missouri's campus on Thursday, March 8th at 4pm in Bush Auditorium located within Cornell Hall. The event is being hosted by a student organization called PROclaim, which stands for Professionals Claiming Biblical Principles.
Mr. Steward's company, World Wide Technology, Inc. (WWT), is a leading Systems Integrator that provides powerful technology and supply chain solutions to the commercial, government and telecom sectors. WWT, located in St. Louis, MO, is a world-class organization exceeding $4 billion in revenue and employs over 1,700 trained individuals.
It will be interesting to hear Mr. Steward's insight and feedback geared towards students and professionals. Not to mention, our very own photographer, Anne Pohlman, will be taking pictures at the event. If you have a bit of free time, come hear David Steward speak at 4pm on Thursday, March 8th, in Bush Auditorium at Cornell Hall. The event is completely free of charge and will last about one hour and fifteen minutes, followed by a reception with light snacks.