3 minutes reading time
(514 words)
How are you backing up your data?
Most clients that I visit say they have some sort of backup system, but they don't really know where or how their data is being backed up. Other businesses may not have a current system in place due to budgetary reasons or simply the time it takes to initially setup. For these companies, backing up usually doesn't become an absolute necessity until after a data loss problem occurs. Below is a quick overview of several types of backup systems:
Cloud Storage
When using the cloud, your data is either synced on the cloud and your hard drive, or your data is only available to you via the Internet. There are many free and paid cloud storage services. Some common examples are DropBox, Google Cloud, iCloud, and many others. Here are some advantages of cloud storage:
Data can be accessed from any computer that has an Internet connection
Even if all your computers crash and are unrecoverable, your data is not lost
Collaboration can be very efficient since data can be shared easily with others
Storage space can be easily increased
No need to accrue the cost of maintaining hardware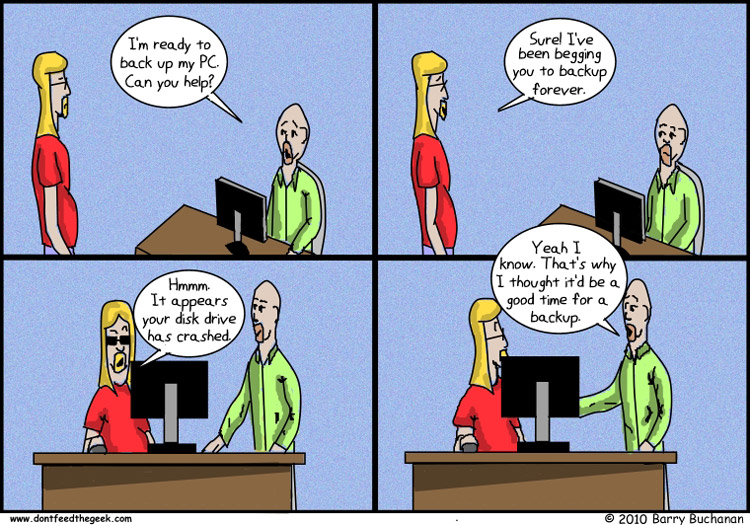 Local Storage
This tends to be the easiest option for most people. The reason is that it's very simple to grab your files and store them on a secondary hard drive. This can be done manually, but there are plenty of programs that automate this process. Here are some advantages to backing up your data locally:
You control all your data rather than a third party
No internet connection is needed
If you need a lot of space, it tends to be cheaper to backup locally than to use a cloud service
Access to files is usually pretty quick compared to Cloud storage (especially if you have a slow internet connection)
Network Attached Storage
A centralized network is a blend of cloud and local storage. This method entails using a local network (separate from the internet) to back up your data onto your own physical hard drives. This is the system we have implemented here at Igniting Business for several reasons:
Document sharing across the network allows for efficient collaboration
We maintain full control of our data
Even if our internet connection goes down, we still have access to our files
Most NAS setups write copies to multiple hard drives for redundancy should one fail
If configured properly, many NAS systems can also be accessed remotely and have cloud functions for syncing very similar to that of Dropbox
Looking for a NAS? Check out this great option!
You will notice that these benefits are a combination of some advantages of using cloud or local storage. We have our backup system automated and it has worked well for us.
I want to be clear and say that I am not recommending any option over the other. All these methods have proved effective in different situations.
Looking for a NAS? Check out this great option!
At no additional cost to you, we may receive a commission if you click on some of the links on this website.