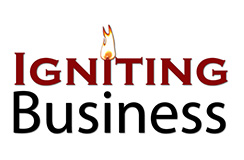 FOR IMMEDIATE RELEASE
July 6, 2015
Media Contact: Ben Seidel, President and Founder
After applying for a grant through Chase Mission Main Street Grants, Igniting Business quickly exceeded the number of votes needed to advance and has made it to the final reviewing step.
Columbia/Lee's Summit, MO. Igniting Business is thrilled to announce our advancement to the final stage of the Mission Main Street Grants review process. We exceeded the 250 votes necessary to be evaluated for the grant. Now, a panel of judges will deliberate and choose 20 of the small businesses nationwide to each receive a $100,000 grant.
The goal of the Chase Mission Main Street Grants is to help these small businesses grow by giving them the resources to do so. Chase will provide funds designed to enable an established for-profit small business to use the grant for expansion and growth. Chase has designated a total of $2 million to be awarded to 20 small businesses nationwide. Each grant recipient selected in accordance with their program rules will receive $100,000.
"We are elated with our advancement to the judging round of the Chase Mission Main Street competition. The Chase grant would significantly impact our company as we continue to grow and serve small businesses from our offices in Columbia and Lee's Summit, MO. We want to thank our clients and supporters for their generous encouragement," says Ben Seidel, President and Founder of Igniting Business.
Receiving this grant would be a blessing for our hard-working business. The funding is currently allocated for technology upgrades, connecting our two offices, and staffing needs, which will ultimately benefit our small business clients. For grant updates and to show support for Igniting Business, please follow us on Facebook at facebook.com/ignitingbusiness and Twitter at http://twitter.com/ignitingb.
About Igniting Business
"Introducing a company geared towards helping small businesses succeed."
Igniting Business was founded in 2012 to help small businesses grow. The firm offers affordable Web Solutions, Technology Services, and Marketing Consulting specifically tailored for small businesses and non-profit organizations. Igniting Business recently expanded from its original office in Columbia, MO and added a second office in the Kansas City area to better serve its clients in the Midwest. To learn more about our business, visit www.ignitingbusiness.com.