2 minutes reading time
(418 words)
The New iPhone 5 Specs at a Glance
As you may know, Apple announced the iPhone 5 earlier this afternoon. For the sake of those interested, we have compiled a list of basic specifications for the new iPhone 5 below: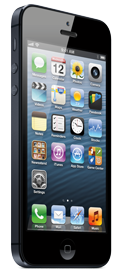 Size: The iPhone 5 has been upgraded to a 4-inch screen compared to the previous 3.5. Most of that size is made up by more vertical space which increases the resolution to 1136 by 640 resolution. In simpler terms, you will be able to have an extra row of apps with the new screen size. Also, the overall weight has been reduced from its predecessor at 140 grams to 112 grams.
LTE Wireless: The iPhone does feature a LTE chip that will connect to the top speed 4G wireless data networks offered by wireless carriers such as Verizon, AT&T, and Sprint. Phil Schiller, Apple's senior vice president of worldwide marketing, claims that the iPhone 5 can achieve a "theoretical maximum downlink of up to 100Mbps."
Audio: An interesting improvement to the iPhone 5 is the fact that the iPhone now features 3 separate microphones (front, bottom, and back) which is said to improve noise cancellation and voice recognition. The speaker has also been upgraded with 5 magnets in its transducer with better frequency response and better sound.
Camera: The camera is still 8-megapixels like the iPhone 4S but features improvements for shooting photos in low light, a new panoramic mode, and a front facing camera that takes 720p video.
Processor: For perhaps one of the most significant elements, Apple has upgraded the iPhone 5's processor to the new A6 which they boast is nearly twice as fast as the iPhone 4S processor.
Battery and Power: The batter for the iPhone 5 will supposedly last 8 hours on 3G networks and browsing on LTE networks; 10 hours on Wi-Fi browsing. Also, the power adapter has been swapped for Apple's new smaller, 8 signal "Lightning" connector which is 80% smaller than its predecessor. Apple does plan on also offering adapters.
Pricing: The iPhone 5 will be sold in the U.S. on September 21st, starting at $199 for a 16GB model with a two-year contract, which is similar pricing to the iPhone 4S release.
Finally, the iPhone 5 will be running Apple's latest operating system, iOS 6, which contains several new bells and whistles.
We are anxious to hear your thoughts on the new iPhone. Will you be buying the iPhone 5? Why or why not? What do you think of the new improvements to the device?
Read more details via Apple's press release.