3 minutes reading time
(523 words)
Windows 8.1 Introduction

As someone who installs and upgrades computers for small businesses, I have heard many questions regarding the new Windows operating system. The user interface is different from what Windows 7 or Vista users expect, so it can be unnerving and inconvenient for some people to learn. Tablet and smartphone users have some sort of experience with the app or card style interface, but those who are not as knowledgeable in this area may have trouble adapting. For that reason, I have put together a short and simple look at Windows 8.1. Microsoft has a lot of nice resources too, and I will be linking to them throughout this blog.
To start off, if you have Windows 8, it is for your benefit to upgrade to Windows 8.1. After this modification, you will have less trouble maneuvering through the new operating system. If you would like help updating to Windows 8.1, please follow these instructions. Oh, and it's free! So update!
The Start Screen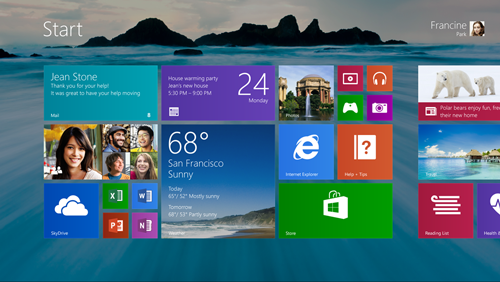 The Start Screen has vastly changed. Instead of seeing a box pop up where you can find all your programs, you will now see a new screen with individual tiles representing all those programs. The familiar Desktop is one of those tiles. This new Start Menu is customizable and can help you see all your useful programs in one place. Since users are now linked to their Microsoft accounts, the Start Screen will look different for each user. Visit this Start Screen tutorial for more details.
Charms
There is a new menu that can be accessed no matter what you are doing. Simply move your cursor to the top right or bottom right corner of the screen. This bar that pops out displays what are called "charms." They are as follows:
Search

It can search your computer by everywhere, settings, files, images, or even video.

Share

This allows you to easily send pictures, documents, videos, etc. to people via email. You can also get apps that will let you post directly to Facebook or Twitter.

Start

This takes you to the start screen.

Devices

From here you can send information to devices that are connected to your computer (gaming consoles, printers, TVs, etc.)

Settings

This option helps you find many of the common settings you would need such as networks, volume and brightness, and power options
Touch, Mouse, and Keyboard
Windows 8.1 is simple to use on all sorts of devices. Tablets and smartphones can be easily used with the touch screen, and there are a ton of shortcuts for those who are adept on the keyboard. Windows 7 supported touch, but it was not as optimized for touch as Windows 8.1 is now. Click here if you want to know some of the nice touch features.
Make sure to check out next month's newsletter, because we will be interviewing one of our clients asking how she has adapted to the new Windows operating system. You may be surprised how useful and efficient it can be for small businesses. If you have any more questions, you can scan through Microsoft's helpful tutorial. You can also contact us at Igniting Business.