2 minutes reading time
(495 words)
5 and a Half Ways to Use Your Old Hard Drive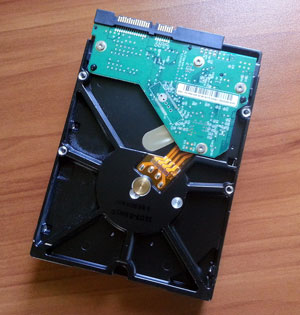 Did you recently get a new computer, or upgrade your hard drive for larger capacity/better performance? If you did, chances are that you have a well-functioning old hard drive that is no longer being used.
At Igniting Business, we do our best to waste as little as possible, and we enjoy coming up with ways to utilize our resources. The following are 5 (and a half!) ways to put your old hard drive to good use:
1. Use it as a secondary drive (also known as a slave drive)
If your old hard drive is still functioning properly and compatible with your new system, you can use it for additional storage capacity, or set it up to clone (duplicate) the existing data on your primary drive as a backup.
2. Store the drive as a backup of your data
In a simple, yet more basic, manner, you can always store your old hard drives in a secure location to act as a backup of your files from when you switched to the new hard drive. We recommend storing the hard disk in a anti-static bag with protective padding.
3. Create an external drive – Igniting Business' favorite option
Did you know that you can use desktop and laptop hard drives to create external drives that you can connect to your computer via standard USB or eSata ports? Instead of buying an external drive, you can convert an old internal drive by purchasing and installing the old hard drive into the external enclosure at a fraction of the cost.

4. Reformat the disk and sell/donate it
As an alternative option to help out a friend or non-profit agency, you can reformat your drive to erase the existing data and give it to someone else to use for their system either as a primary or secondary drive. However, we would strongly advise that you make sure the data is completely erased by following disk wiping standards. Since it is very hard to completely erase data, we would strongly recommend not giving away/selling a hard drive that contained confidential data. In an ideal world, it would be wise to know and trust the person to whom you are giving the drive.
5. Recycle the Hard Drive
Various recycling locations exist that will dispose of the physical components of hard drives in an effective and environmentally-conscious manner. However, before you recycle your drive, please be sure to erase all data using the recommended disk erasing methods.
5½. Release your frustration by smashing it with a hammer
Hard drives can be the cause of many computer malfunctions and losing hours of work due to data loss. As a final recommendation, one can consider destroying a drive the good 'ole fashion method. Be sure to take the necessary safety precautions (gloves, safety glasses etc.)!
These are the main methods that we typically use regarding use/disposal of old hard drives. Do you do something different? Please tell us in the comments section below.