4 minutes reading time
(873 words)
5 Must-Ask Questions for Setting Your SEO Goals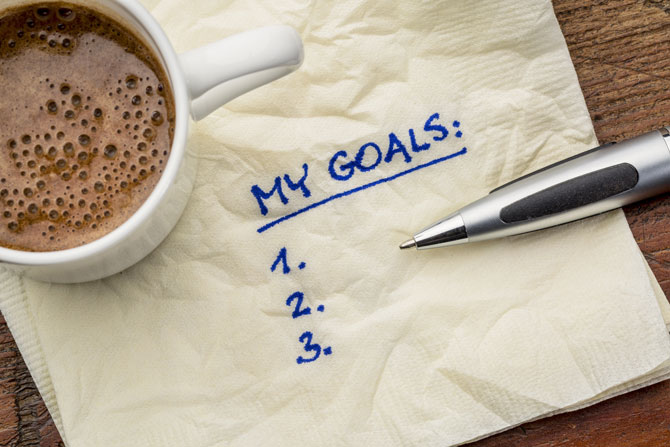 SEO, or Search Engine Optimization, is an essential investment when seeking a return on your website. Simply having a website is not a guarantee to being successful attracting clients. If you're not attracting new leads or sales with your site, it's most likely losing you money and, thus, hurting your business. SEO is part of the methodology of making your website profitable. The following are 5 questions you should ask yourself when entering the fray:
1. Where Do You Want to Pull Up in Search Engines?
First page? No, this isn't a question of where you want to pull up on a search page, but where you want to pull up geographically. Within search, a site can pull up locally, regionally, nationally, and internationally (an entirely different ball game than the first three). Google and other search engines tailor search results based on the searcher's location, and, in most cases, it's generally easiest and most cost-effective to start first with a focus on local. From there, it's good to build off local success to move toward regional and national ranking.
2. What Do You Want to Rank Well For in Search Engines?
Typically, a business will want to rank well on Search Engine Result Pages (SERP's for short) when someone searches for their businesses name. For example, a search for "Igniting Business" in Google generally pulls up Igniting Business's website near the top of search results, and this is an example of a business name search. Though this is a great first goal to start with, ranking for keywords relevant to your company can do a great deal in being found online as well. Optimize your website to help search engines AND users discover what products or services your company is offering; then, focus on producing articles, blogs, web pages, images, videos, and more that feature those services. Especially when faced with tougher competition, ranking well for keywords might be more profitable for your website than pulling up on SERP's for your namesake alone.
3. Who Is Your Competition?
Competition can often determine the difficulty in ranking for certain keywords, topics or even your business's name. Outranking large sites like amazon.com, dell.com, nytimes.com, etc. will be very difficult due to those domains' long existence and the large amount of resources these companies pour into their web presence, but that doesn't mean it's impossible. A smaller website might be able to selectively rank well for certain keywords with the proper optimization (i.e. AKUA Boat Fenders often organically ranks better for their products "Bass Boat Fenders" than other national retailers on a national level). . Even then, it will be an uphill battle, and it will require time and funds to compete with the Goliaths of the internet (see question 5).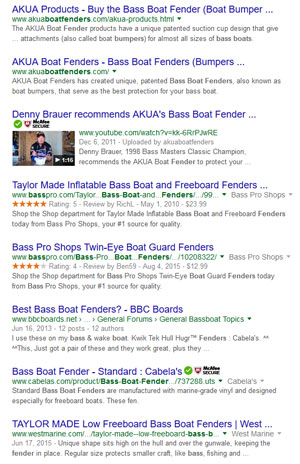 4. Why Do You Want to Pull Up Well in Search Engines?
While this may sound like a question with an obvious answer, it's actually one of the most crucial in setting your SEO goals. An e-commerce site usually tries to rank well in order to sell products online, and thus, the owner of an e-commerce site will invest in search engine optimization for the purpose of selling more products. In comparison, a legal counselor's reason will sound familiar, but still be very different in nature. Yes, a lawyer is also trying to find more clients, but he's not trying to sell them a product via a few clicks online. Instead, legal firms look to create leads with their website in order to foster new client relationships or showcase their industry expertise. The user experience and content emphasis will look drastically different when comparing a law office's website and an e-commerce site. That's why asking the question, "Why?" is a great way to check that your targeted keywords and website layout match what you're trying to convey to who you're trying to engage.
5. How Much Are You Willing to Invest in Search Engine Optimization?
Analyzing your budget should always be included in setting your SEO goals. One cannot set accurate goals without knowing the time and fiscal assets you're willing to invest. An example of the above question's importance might be seen in a business owner's desire to compete regionally with Apple for "iPhone support." Depending on the resources available, this might be possible; however, the resources required to compete with one of the most profitable companies in the world would be very large. Ranking well locally for the keywords "iPhone support" will most likely require much less resources. Setting your Search Engine Optimization goals very much comes down to budget – both temporal and monetary. To a degree, your goals' timeframe will also be related by your answer to this question, but nearly all proper SEO takes time.
There are a multitude of questions that you can ask when setting your SEO goals. These are several initial questions that we find helpful for our clients in identifying their needs for Search Engine Optimization. The next step is formulating a plan to make those goals a reality.
If you're ready to start answering these questions and identifying your goals, we'd love to talk with you at Igniting Business. You can email us at info@ignitingbusiness.com or connect with me personally on LinkedIn.