When customers search for a local business on Google, sometimes they have unanswered questions in their mind. Questions that, if answered, may capture their business. If left unanswered, these searchers may turn to another provider who successfully answers their question – this can all happen before the customer even decides to reach out to the potential vendor! Google noticed the need for a Q&A section and added one for companies listed on Google My Business (GMB). As a small business owner using GMB, it's important to stay up-to-date on new tools like this and learn how to use them effectively. Let's go through some key elements your small business needs to know about Google My Business's Q&A feature.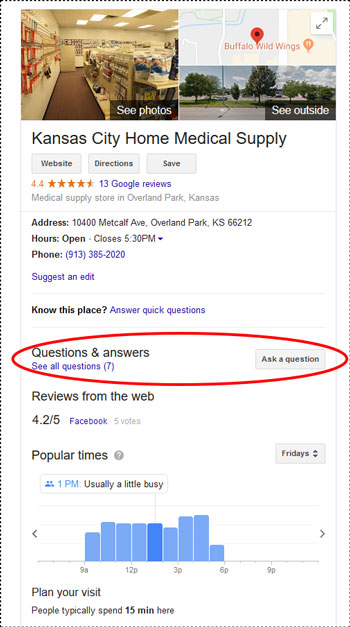 Importance of Google My Business Q&As
Before you begin using this feature, it's crucial to understand you're going to incur some extra work in answering customer questions. According to a study done by GetFiveStars, roughly 25% of listings have been asked at least one question. This means you are forced to use this feature, whether you want to or not! It's important those questions get answers. If a prospective customer sees a bevy of unanswered questions on the listing, they're likely to assume the owner doesn't care enough about customer concerns. That's not a good impression for your customer to have of your small business.
Who Can Answer Google My Business Q&A's
It's one thing if your questions go unanswered, but did you know anyone with a Google account can post an answer to a customer's questions on your Google My Business Page? This means if John Doe sees a question on your listing, he can hit reply and give his own answer, and you have zero control of whether or not his answer gets shown.
This means that you could potentially have incorrect information provided by someone who was indirectly "trying to help" and didn't know better.
Can I Opt-Out or Turn Off Google My Business's Q&A's
As of the writing of this article, no you cannot turn of the Q&A portion on your Google My Business listing. The only way you could avoid this feature is by getting rid of Google My Business altogether which is truly not an option! Google My Business is critical for your SEO (Search Engine Optimization) and online visibility.
This is a helpful and good feature; however, it adds extra work to our plate whether we want to or not. Since it's part of Google's system, we must embrace it. We outline best practices in the section below.
How to Use Q&A
Once someone posts a question, it can either be answered by you or other customers.
First, sign into the Google account tied to your Google My Business account.
To answer a question, navigate to your listing via Google Search and click "See all questions (#)" under the "Questions and answers" Section.
Navigate to the question you want to answer and hit "answer" to reply to the question. This can also be done on a smartphone's web browser or even the Google Maps app.
Double and triple check your answer before hitting "Post." Note that when you post the answer it may take a few minutes and require a refresh before you see your answer show up.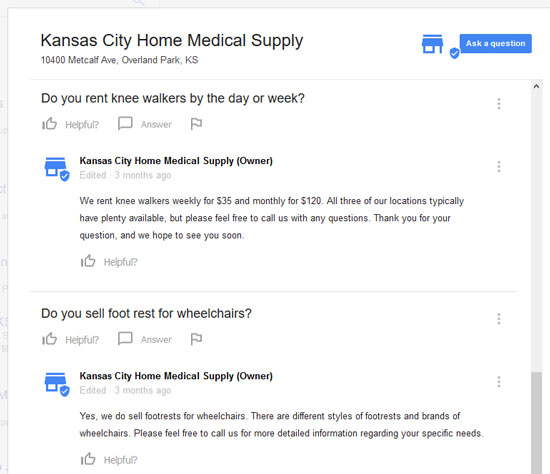 It's critical to make sure you are responding from the actual Google account that is tied to your business account, otherwise, it will show up from the wrong profile. If you successfully replied from the right account it will show the company name and put "Owner" in parentheses. In the case of the example image we included, it shows "Kansas City Home Medical Supply (Owner)" with a blue store icon with a checkmark that verifies this is an answer from the owner, vs. another Google user.
Why doesn't my answer show up on the Q&A section?
You might find that you reply to a question and your answer doesn't show up. This is likely because you used content in your response which is not allowed by Google, thus they refuse to show your answer. As of the writing of this article, restricted content includes the following:
Links to a web page are not allowed
Email address and phone numbers are not allowed
Do not use restricted content in your answers!
Can I edit an answer that I gave?
You can edit answers that you specifically left, yes. But it will forever show "edited" to all viewers. Thus, it's better if you take the time to be careful and get your answer 100% right the first time. Of course, it's still better to have accurate information – so edit as needed.
What if someone left an answer that's not right?
Most answers that are created cannot be removed. As people mark certain answers as "helpful," that answer is likely to be shown more prevalent. Google also (thankfully) currently gives a bit of bias to answers by the "Owner" as well. If there's an answer that is fake, off-topic or violates Google's terms, you can request it to be removed. Here's a full list of prohibited and restricted content https://support.google.com/contributionpolicy/answer/7400114?hl=en&ref_topic=7422769
Note that the answer must truly violate Google's guidelines in order to be removed.
Do I get notifications of new Google My Business questions?
While your small business should be notified via the email attached to your Google My Business dashboard when you receive a question on your listing, our experience shows Google does not reliably send these emails. To be sure you're aware of a new question on your business' listing, monitor your GMB listing regularly for questions and answers. You can also download and install Google Maps via the Google account linked to your GMB listing on your smartphone. Once signed in, you should be notified of new questions. Given that Google is working to make this notification system more significant, hopefully it will improve in the future. In the meantime, we recommend checking your list of questions on a daily basis.
Need some extra help with Google My Business?
The new Q&A section is really powerful for small businesses. However, it can be a bit tricky getting started. For more information or guidance on Google My Business or the new Questions and Answers feature, feel free to contact us.