5 minutes reading time
(988 words)
Why You Should Use WD (Western Digital) Red Pro NAS Hard Drives in Your Synology NAS
If you check out our other business tips posts, you'll find out quite quickly that I am a tremendous fan of Synology NAS (Network Attached Storage) devices. This comes from our experience of successfully using Synology NAS devices at Igniting Business to replace both traditional Windows servers and cloud storage systems for over a decade.
However, most NAS devices, by Synology or other competitors, will typically ship without hard drives preinstalled. They often will state that the NAS is "Diskless," which simply means you must buy your drives separately. The NAS manufacturers take the diskless approach so you can select a set of drives that best meets your needs balancing factors like total storage size needed, RAID configuration, warranties, preferred brand, and more.
As a result, you typically must select hard drives to utilize within your NAS.
Why We Recommend WD Red Pro NAS Hard Drives
At Igniting Business, we've used various hard drives over the years, including Western Digital, HGST, Toshiba, and Seagate. Based on our personal experience, we've encountered better performance and a lower failure rate with our Western Digital drives than competitors used. Additionally, when issues have arisen Western Digital's customer support has also pleasantly met our expectations.
However, it's important to understand that the needs of a NAS are quite different than that of a desktop. As a result, we've come to rely on and recommend the specific WD Red Pro NAS Hard Drives, especially for Synology NAS devices.
Why Are Specialized Drives Needed for a NAS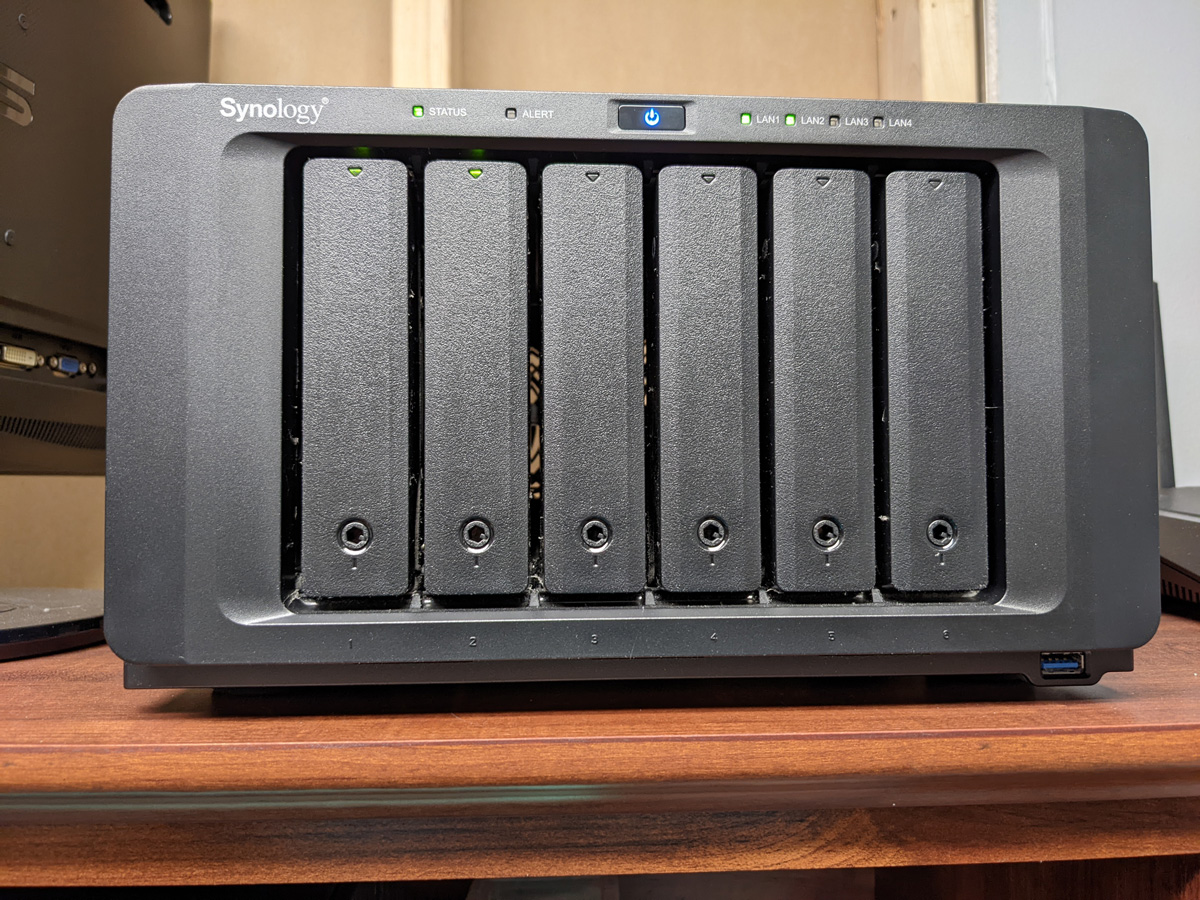 Network Attached Storage (NAS) devices are specialized storage solutions designed to provide centralized data access and applications to multiple users and client devices over a network and even remotely. Synology NAS devices can typically replace most, if not all, functions of a traditional server within a small business environment at a fraction of the cost to both setup and maintain.
Because of their specific use-cases and requirements, NAS devices often use specialized hard drives. The following are just a few of the reasons why specialized NAS hard drives will yield better performance and increased longevity.
24/7/365 Operation
Unlike regular desktop hard drives, which might only be in truly active use for 4-8 hours per day, NAS hard drives are designed to operate 24/7/365. They are built to handle the constant demand of multiple users accessing and storing data and applications simultaneously.
Vibration and Shock Resistance
In a NAS setup, especially in larger units, multiple hard drives are packed very closely together. This can lead to vibrations from one drive affecting the performance and lifespan of its neighbors. NAS hard drives are designed with vibration resistance through shock absorption to ensure they can operate reliably in such environments.
Error Recovery Control
Desktop drives might spend a long time trying to recover from an error, which can cause issues in a RAID (Redundant Array of Independent Disks) environment. NAS drives have specialized firmware that handles error recovery more efficiently, ensuring that the RAID controller doesn't drop the drive from the array or cause other show-stopping issues.
RAID Optimization
NAS devices often use various RAID configurations to provide redundancy and performance improvements. NAS hard drives are optimized for multiple types of RAID environments, ensuring better compatibility, flexibility, and data integrity.
Advanced Health Management
NAS specific hard drives often come with advanced health monitoring features that integrate with the NAS system's software. This allows for better diagnostics and early warnings of potential drive issues. As a caution, most NAS manufacturers will list specific "supported drives" that their software leverage these advanced health and monitoring features. We recommend checking your NAS's compatible lists before purchasing a hard drive.
Higher MTBF (Mean Time Between Failures)
NAS hard drives often have a higher MTBF rating compared to regular desktop drives, indicating a longer expected lifespan when operating in demanding environments. This does not mean the drive will never fail. Unfortunately, everything wears out over time; however, a higher MTBF indicates a higher level of reliability over the long-term.
Improved Warranty and Support
Manufacturers often provide longer warranties for NAS-specific drives compared to regular desktop drives. Additionally, having an active warranty makes it much easier to get a rapid, identical replacement should an error occur.
Scalability
As businesses grow, their storage needs can increase rapidly. NAS specific drives are designed to be scalable, allowing businesses to add more drives or replace existing ones with minimal disruption. Additionally, NAS drives are typically built to handle a higher capacity than traditional desktop drives. For example, the WD Red Pro NAS Hard Drive line has capacity options ranging from 2TB to 22 TB.
Bonus Tip: Add Solid State Caching Drives
Please keep in mind that there is a specific use case for Solid State Drives (SSD) within a NAS environment as well. At Igniting Business we use multiple NVMe SSD's as read/write cache which are paired with WD Red Pro NAS Hard Drives to optimize our NAS for our demanding work environment.
Where to Buy WD Red Pro NAS Hard Drive
At Igniting Business, we've been using Synology NAS and WD Red Pro NAS internal drives since 2013. You can purchase these drives directly from Western Digital or purchase them on Amazon and take advantage of Amazon's insanely speedy prime delivery (which is what we do!). Amazon also has various options for different capacities based on your storage needs.
For more technology tips, consider subscribing to our free monthly newsletter.
At no additional cost to you, we may receive a commission if you click on some of the links on this website and make a purchase.