5 minutes reading time
(958 words)
All You Need to Know About Google My Business Short Names
Last updated on 7/8/21
---
As of June 2021, Google has started the process of phasing out short names on Google My Business. According to Google, if you have a Google My Business short name already created, it will continue to work (forward users to your Google My Business listing). However, you cannot edit existing shortnames or create new shortnames within Google My Business.
Note that there is no guarantee that Google My Business will indefinitely support already created short names. As a result, we recommend excluding short names from future marketing materials or digital campaigns.
Feel free to read Google's update to their documentation regarding phasing out Google My Business shortnames.
The rest of this original blog post discusses what shortnames are and how they were used in the past.
---
Google continues to revolutionize the way small businesses market their solutions through online advertising, search engines, and Google My Business. Google My Business is a free platform launched in 2014, whose purpose is to give businesses more control of what appears when someone searches for them online.
Through Google My Business, small businesses can indicate what time they're usually open, location, address, contacts, add photos or videos, provide service and products lists, and more. In April 2019, Google started rolling out "short names," an addition on Google My Business to help businesses enable more accessibility to their pages. Here's a breakdown of the new feature, as well as how it works.
What is Google My Business Short Name?

A Google My Business short name is a short or customized name that you can add to your Google Business profile to allow users to find your listing easily. The short name can be up to 32 characters and has to be unique, meaning no other business the world over can have the same short name as you. Because each short name has to be unique, it's advisable to select your short name as soon as possible.
Once you have a short name, you can start using the website address g.page/shortname to drive traffic to your Google My Business listing. Try it out by navigating to g.page/IgnitingBusiness which is our selected short name.
Eligibility for Short Name
If your business has a verified Google My Business account, you're eligible to create a short name. Note that even if you have not created a Google My Business listing before, it's possible that you Google My Business listing has already been automatically created. As such, make sure you triple check for an existing Google My Business listing and claim it with your desired Google account. Accidently creating a duplicate Google My Business listing for your company can have unintended negative SEO consequences.
How to Create a Short Name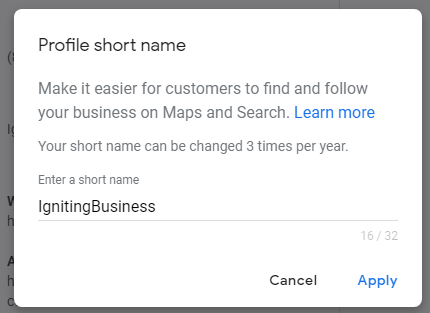 To create a short name on your computer, simply:
Sign in to Google My Business
Select your location
On the left side of the menu click "Info" then click "Add profile short name." Note that you may have to scroll down the Info page a bit until you arrive at the short name section.
Add your no more than 32 characters name
Click "Apply."
Your short name will appear as "Pending." When it's ready, it will appear on your business profile.
If you're creating a short name via a mobile device, follow these steps:
Go to Google My Business App
Go to "Info," followed by "Add profile short name."
Save changes
The short name will indicate as "Pending" until it's processed, then it will show on your business profile.
If you would like a tool to help you optimize your Google My Business listing and overall SEO (Search Engine Optimization) health, we recommend that you try out BrightLocal or SEMrush.
Can I Change My Google My Business Short Name?
Yes, you can change your short name up to three times per year. We don't recommend changing your short name frequently. However, if you selected the wrong short name, or rather have a different short name more optimized for marketing purposes, we recommend you update it as soon as possible as there is no guarantee your desired short name will be available in the future.
What if it says my desired Google My Business Short Name is taken?
Unfortunately, once a short name is taken by any other business, it cannot be re-used. As such, you will have to get a bit creative to find an alternate name that works well.
Consider one or a combination of the following ideas if your desired Google My Business short name is taken:
Add on the location (city) to the end of your short name
Use the abbreviation for your company name
Use dashes within the name to separate each word (or just city) in your short name
Benefits of a Google My Business Short Name
A short name is a great way to quickly connect people to your location, so they can learn more about your small business easily, get directions, or leave a review. You can have the link on your social media pages, business cards, and any other places where your business is listed. When a customer calls you, you can direct them to your optimized Google My Business listing via your short name, enabling more interactions with your business.
Do you have questions about Google My Business short names? Contact us to discuss further with a member of our SEO team.
We also recommend using an SEO tool like BrightLocal or SEMrush which can monitor your overall Google My Business health as well as provide a variety of SEO monitoring and audit tools.
At no additional cost to you, we may receive a commission if you click on some of the links on this website and make a purchase.