Having an active presence on Google Plus can be very beneficial to businesses of all sizes, but sometimes this platform can be overlooked. Let's take a look at some of the benefits this platform provides and how your business could be affected.
Increased Google Search Visibility
If your business has a Google+ page and is actively posting, these posts could show up in Google search results, increasing the chances for your brand to rank for valuable keywords. By posting about topics and articles that are relevant to your business and consumers, you are providing Google with another source to pull search results from, in addition to your company website/blog. It is also a great way to gain added exposure for your company blog posts, by simply posting about them on Google+.
Added Information in Search Results
When a business has a Google+ page that is connected to their website, it allows Google to pull in a Knowledge Graph of information on your company. Having more free real estate in Google searches is a huge advantage, especially to small businesses. This is also where Google reviews become even more important to your business. They are displayed front and center with your brand, so it is crucial that you have a proper review and testimonial collection plan in place to make sure these results truly reflect your brand.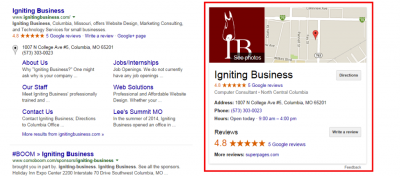 Hootsuite Integration
Posting on multiple social media networks can sometimes seem like an unnecessary chore for small businesses, but don't let that hinder you from getting a Google Plus page. Hootsuite is a social media management tool that allows you to create one post and push it out to all of your social media networks with just the push of a button. Hootsuite also allows you to schedule posts, so you can ensure your pages will have frequent content posted, without having to worry about it daily. This tool is extremely helpful for businesses who want to stay active on social media, but don't want to worry about the day-to-day posting.
Overall, Google Plus is very easy to integrate into your current social media plan, and it provides businesses with several benefits when it comes to search rankings. I would recommend all businesses to incorporate Google Plus into their online strategy. If you have any questions regarding Google Plus or Hootsuite, feel free to reach out to our team here.