2 minutes reading time
(474 words)
Facebook Adds Star Ratings to Business Pages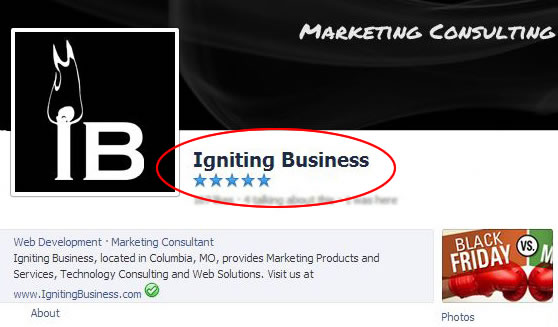 As you may have noticed, Facebook rolled out their star rating system onto business pages last month. In reality, the star rating system has been in place on Facebook's mobile app for places for quite some time. However, November is when they officially rolled it out for business pages on the standard browser version of Facebook.
The Good and Bad
The placement of the star ratings on the Facebook page could not be more visible. If you have ratings, the page will aggregate this data into the 5-star rating graphic and display it directly underneath your page title. As with any major update to a social media platform, both pros and cons exist.
The Good:
These user generated ratings add credibility to your business. You can stand out from the crowd if you have great reviews and ratings.
Users can rate your business very easily on a 1-5 star scale, and they can add a more in depth written review that will show up in a designated location on your page.
Users can select whether they want their review and rating to be public, visible to friends only, or custom visibility – which gives your visitors greater control.
Ratings serve as a new metric for quality as opposed to the standard Facebook Like count.
The (Potentially) Bad:
If you have poor ratings, or no ratings at all, this could leave a negative impression with your visitors.
Anyone can rate your company without justification – clients, competitors, friends, enemies, random visitors, etc. Like other review platforms, there is no requirement that they have actually done any work with your company.
Page Admins cannot see the reviews and ratings on the page that are "visible to friends only." This can lead to companies missing and failing to address negative feedback.
Some companies do not want or are prohibited by law to have ratings on their pages
How to Remove the Star Ratings from your Facebook Page
Many companies may not want these ratings to be visible on their page. For example, financial advising firms are not allowed to have these reviews/endorsements by mandate of the SEC.
Since the rating system is currently tied to the check-in/map system, the following is the workaround for removing the ratings from the page (however, we cannot guarantee this will be the case long term. Note that this also removes the map from your Facebook page.):
Once on your page as an Admin, select "Update Page Info"
Click the Edit button on the Address line
Uncheck "Show this map on your page"
Facebook will give you a warning about disabling check-ins if you turn off the map feature. Go ahead and click ok, and save your changes.
The star ratings under your company name should now be removed.
We will try to keep you updated as Facebook further develops this feature.