3 minutes reading time
(550 words)
How to Reach Your Target Market Organically with Informational Blog Posts
As a small business, it is extremely important to market your company to your target audience. We know you have lots of informative and relevant industry knowledge to share, and blogging is the way to get that information across in the form of content to the people you should be reaching.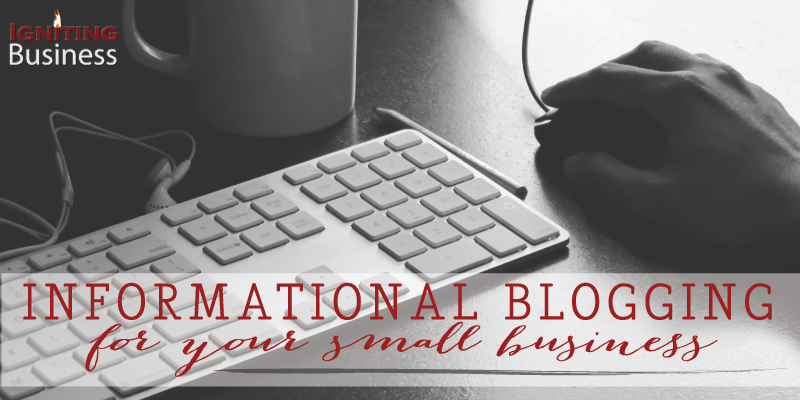 There are countless benefits to blogging, and we believe these 4 aspects influence customers to choose your business.
1. Boost Credibility While Building Trust
We've all clicked into an article or post expecting great advice or tips and tricks on a subject and instead received a load of information on services/products when we simply wanted to educate ourselves on the topic. What most don't realize is that informational blog posts can be a sales tool without pushing services/products on readers. By sharing genuine and resourceful content, you not only boost the credibility of your company, but in turn you become a "go-to" source which can lead to higher customer conversion rates. Keep in mind that building trust leads to easier sales in the long-run.
2. Organically Reach Your Target Market through Search Engines
Blogging is an incredible tool when it comes to driving traffic to your website through search engines. Say you're the small business owner of one of three locksmith shops in the area. Before blogging came into the picture, your primary goal was to popup on Google when users searched for "duplicate keys" or any other relevant industry keyword.
Now that blogging is in the picture, say your last blog post was titled "What to do When You Lost Your Keys." You are now reaching those with specific searches, known as long-tail searches, as well as others with more generic searches likes "Locksmith near me." These "long-tail" searches allow you to reach a new group of potential customers by providing actionable steps that help the customer, and leads them directly to your business without pushing your products or services. What's the best part about it? You've now developed a trusting relationship with customers organically.
3. Position Your Brand as an Industry Leader
Informative and well written blog posts establishes your company as an industry leader. If you're B2C, you're providing knowledge and a trust worthy source for those who need your help. If you're B2B, you could potentially become the place to look for answers in your industry. If you improve your overall website's page rank by answering specific searches, it also benefits your rankings for more generic terms like the "locksmith" or "duplicate keys" referred to earlier.
4. Create Sharing Opportunities through Social Media
Aside from blogging, another significant role in marketing is being active on social media. Many small businesses want to be active on social media but aren't sure what to post and share. If you're company is actively blogging, that content is perfect for sharing throughout social media! These blog posts shared on social media serve as another mechanism to drive potential customers to your website where they will subsequently learn more about what your company offers. It's important to create branded and customized photos throughout your blogs because those images will show up on social media, and brand recognition should always be an emphasis.
Have more questions on informational blogs or how to get started? Contact us today for a free consultation!