3 minutes reading time
(505 words)
Is Windows 8.1 Right For Your Small Business?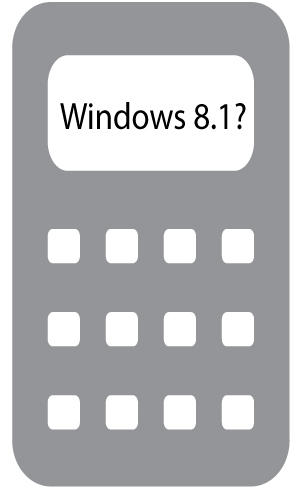 Recently, Igniting Business asked a local small business employee what she thinks of Windows 8.1. Her name is Paula Burger, and she is an accountant for Oakstone Construction, a residential construction company. When we got her answers to our questions, Paula said "I was not entirely positive about upgrading, but I was honest." If you are still unsure of upgrading, read through Paula's experience of the new operating system.
Q: What was your first impression of Windows 8.1?
Paula: Although it looks totally different from what I am used to (I upgraded from Windows XP), I found the interface to be easy to use. The app page is a little "busy" for me, but easily used, and it is so easy to go to the explorer button and maneuver around that way too if that is what is comfortable.
Q: Do you usually upgrade when a new operating system is released?
Paula: No! I usually hate upgrading, and only do so when I am forced to by software requirements, hardware failures, etc.
Q: Why did you upgrade?
Paula: I had to upgrade Quickbooks Pro 2014 in order to keep my payroll update functionality, and Quickbooks 2014 would not run on Windows XP.
Q: How has it affected your work flow?
Paula: I don't see a huge difference in my work flow due to Windows 8.1, although I do find it easier and quicker to access folders in this version. I will probably notice better productivity as I take advantage of some of the features I am not aware of yet, or am not using yet...
Q: Would you recommend other small business to upgrade? Why or why not?
Paula: Hard question, I don't usually enjoy upgrading, but when I have to I am usually happy with the results. I sometimes feel that operating system upgrades are more a money maker for the manufacturer than important for productivity, but usually do realize some benefits when I do upgrade.
It is clear that Paula was not excited to upgrade. Windows XP was working for her, so why would she upgrade? In this case, she was forced to because of her need for the new version of Quickbooks. But she found that the change wasn't too bad. Once she got over the initial hurdle of the new interface, Paula grew to enjoy it.
Your position might be similar too. Not every business needs to be using Windows 8.1, but everyone should weigh the pros and cons. Most likely, you know someone who does use the new operating system. So ask questions. You don't want to miss an opportunity to increase business efficiency due to a fear of change.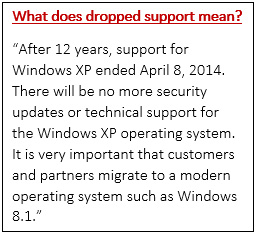 For any XP users, you really do need to upgrade. Microsoft has abandoned support for its old operating system, and it is a serious security risk to continue using Windows XP.
Eventually, Windows 8.1 will be a thing of the past as technology keeps moving. Learning to adapt will keep your business up to date regardless of changing technology.