4 minutes reading time
(847 words)
Webinars: A Unique Marketing Strategy to Help Boost Your Small Business
Running a small business can be tough and trying to reach new customers and make sales can be frustrating. If you're attempting to build visibility and awareness for your small business, webinars are a unique marketing strategy that may make a huge difference for your business. In the post-COVID-19 world, webinars can be even more beneficial than ever, as many consumers are looking for remote opportunities to engage, learn, and shop for products and services.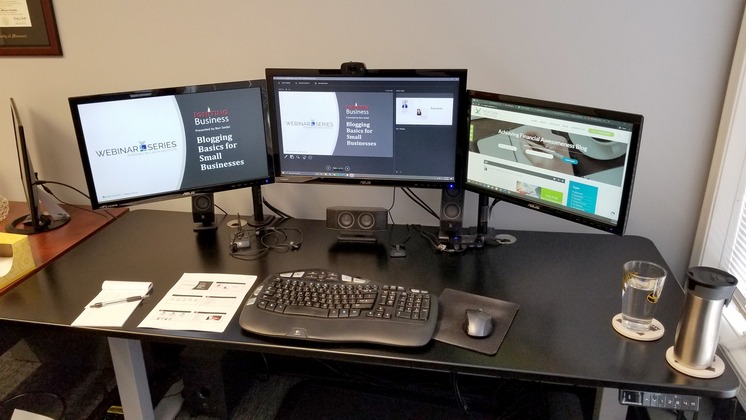 The Benefits of Creating Webinars
Web seminars, or "webinars", are an easy way to connect to many people at one time and offer several benefits:
There is no need to travel.
You can broadcast from your home, office, work, or studio.
You can educate your customers about a product or service and explain why it applies to them.
You can put on a demonstration explaining how to use one of your products.
Beyond these benefits, you'll find webinars are an engaging marketing strategy that can showcase your expertise to your small business customers.
An Engaging Marketing Strategy
Video content is one of the fastest-growing forms of media and is getting a lot of attention on all platforms. Webinars are the perfect way to create a user-friendly experience, increase engagement, create brand awareness, establish a more personal side to your business, and show potential customers exactly what you have to offer.
With built-in chats, polls, and surveys, webinars can be very interactive and engaging. Since most people remember visuals better than text, the information you provide through the seminar will stay in your audience's mind and might be the key to their decision in purchasing from your business later on. Webinars are also great for networking because they bring people together with similar tastes, interests, and goals.
Display Your Expertise in Your Niche
Public speaking and demonstrating what you offer can lead to a great reputation, brand you as an expert, and boost your credibility. Plan out your webinar and include situations or problems customer's might be facing, your experience with said problems, the solutions to these problems, and how the customer will enjoy what you have to offer.
Marketing Your Webinar
There are many professional and personal organizations that are always looking for presenters. Reach out to some local organizations in your area to see if they would be interested in having you present a webinar for their members. By partnering with an organization, you have a much easier time gaining attendees and marketing the event. Often, they do all the hard work for you!
If you're hosting the webinar yourself, give yourself at least three weeks to spread the word about your webinar. Try practicing exactly what you are going to say, present, and do in your webinar. Remember to send out emails and place ads where your target audience spends time. Make a blog post about it, create a landing page for sign-ups and registration, post it on your website, and any group or community page that is relevant.
When posting webinar information to any platform (social media, websites, forum, community site, and email), remember to add the following content:
Speaker information (your business and name)
Webinar topic
Why the individual should attend/how they benefit
Date and time
Link for registration or subscription
Picking the Best Webinar Software
Naturally, to host a quality webinar, you must utilize a reliable and feature-rich webinar software. There are numerous webinar platforms available from which to choose. We recommend trying out multiple platforms to see which platform has the best combination of the features you need, works well with your workflow, and ultimately is within your budget. Two of our favorite webinar platforms are Microsoft Teams and Zoho Meeting.
Webinars are a great marketing strategy to help put your small business in front of many more potential customers and generate leads. For more information on creating webinars, or to learn more about our content marketing services, contact us at Igniting Business today!
At no additional cost to you, we may receive a commission if you click on some of the links on this website and make a purchase.