4 minutes reading time
(889 words)
Is Your Google Account Setup Hurting Your Business's SEO?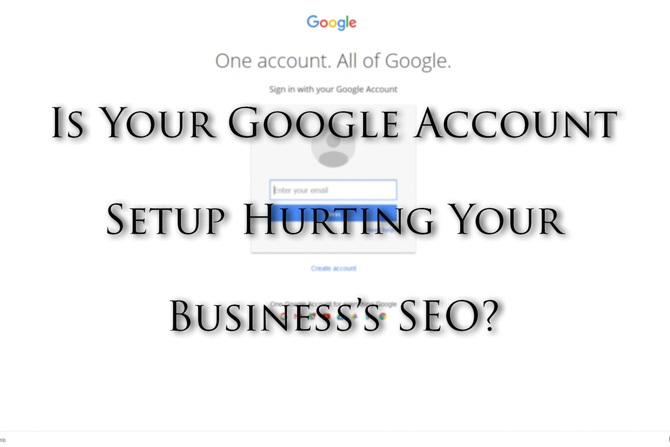 Google is well known for allowing users to access their multiple web based services all with one account. One account can access Gmail, YouTube, Google+, Google Drive, Google Photos, and more, but what some don't know, is that there is a wrong way to setup your Google account with these services. This is especially relevant for small businesses. Different types of pages or accounts have different features specifically for specific types of users, and if your business's accounts are setup incorrectly with some of Google's services, your company's web presence could be missing out on a lot of benefit.
How much benefit? According to Danny Sullivan with Search Engine Land, Google runs 100 billion searches per month, and YouTube cites that it has over 1 billion users. That is a lot of people in one space online. Metaphorically, Google is the control tower directing those billions of users and searchers towards the rest of the web, and if your Google+ page or YouTube account is setup incorrectly, Google may direct potential web traffic for your company's website to other sites and even to competitors' sites. Thus, bad Google account setup = bad SEO. Most errors that I've seen with Google account setup involve Google+, but they're relatively easy to avoid.
There are four types of Google+ pages. If you include personal profiles, there are four types, but one should never use a "Profile" for their business. This can warrant unnecessary penalties from Google in addition to losing the benefit of a business page. Instead, your business should be using a "Storefront," "Service Area," or "Brand" page(s).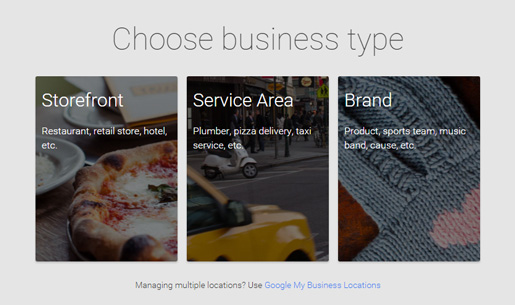 Storefront pages are businesses that have physical locations with an address such as a restaurant, gym, or bank. They require the owner to verify the listed address before being listed on Google. An unverified local page may as well not exist to searchers.
Service Area pages are local pages that do not list their exact address. This is for businesses such as sole proprietors and freelancers who work out of their homes or do not have dedicated office space for meeting customers, but they can still specify the region to which their company serves without publically listing the address (e.g. 50 miles from 1234 Main St. City, State 12345). Even so, Service Area pages are still required to verify their local address. Though the address isn't listed on the Google+ page, the address on Service Area page can still be found by requesting directions on Google Maps.
Brand pages are not local pages, but rather, they are for businesses with multiple locations or a business such as an e-commerce store. Here at Igniting Business, we have two Storefront pages for our Columbia and Lee's Summit offices and a Brand page. Brand pages cannot list or verify an address, but they can verify a linked website.
Regarding content on your Google+ page, it's very important to make sure there are no blank fields. While it might not be possible to provide hours if you're freelancer, all of your pages should have a profile picture, cover photo, business category, and description, and each page type has unique features that should be capitalized on. For example, reviews are invaluable for local pages. Both Google and searchers see them as a large credibility boost, but they're not available for brand pages.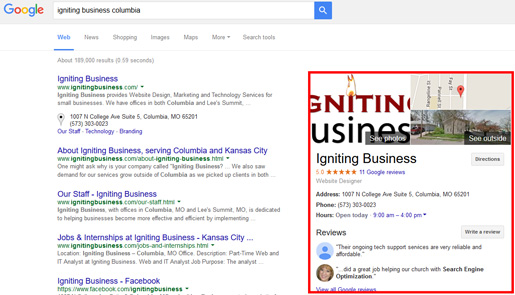 If your Google+ pages are set up correctly, searchers may see something similar to the contents of the red outlined box in the image above when they use Google to search for your site. This helps create a positive interaction with potential customers or clients before they even enter your site, and it also encourages Google to filter more visitors to your site. While the future of Google+ is uncertain as a social network, Google+ pages are still too valuable for your business to ignore. It's unexpected for Google+ pages to disappear anytime soon, but even if they somehow ceased to exist next month, I'd argue that they're still worth optimizing well today. That's how valuable Google+ pages can be for your site and/or business.
Conversely, improperly optimized or setup Google+ pages can hurt your business, and this applies to other Google services as well. Using a personal account/page for your company even accidentally can create a large headache and hours of work to correct later. This can be especially true with YouTube, but it is also very relevant to Google+.
Correctly setting up your Google accounts with Google+ pages, YouTube channels, and more is a must for your business's success online. While we only covered the very basics in order to be concise, choosing the correct Google+ page type is the first step to setting up your company's pages correctly, and errors associated with page types are typically some of the most costly to correct. If you'd like advice or help setting up your business's pages or channels, connect with me on LinkedIn, or you can write Igniting Business at info@ignitingbusiness.com.