3 minutes reading time
(687 words)
4 Benefits of Switching to Cloud VoIP Phone Systems for Your Small Business
If you're looking to cut unnecessary costs for your business, or even just make phone communication and conferencing easier, you might want to consider switching to a VoIP phone solution. VoIP is an acronym for Voice over Internet Protocol and is a change in the way companies communicate. While the name sounds complicated, the service is not. In this article, we'll give you 4 reasons why switching to VoIP may be the best phone solution for your business.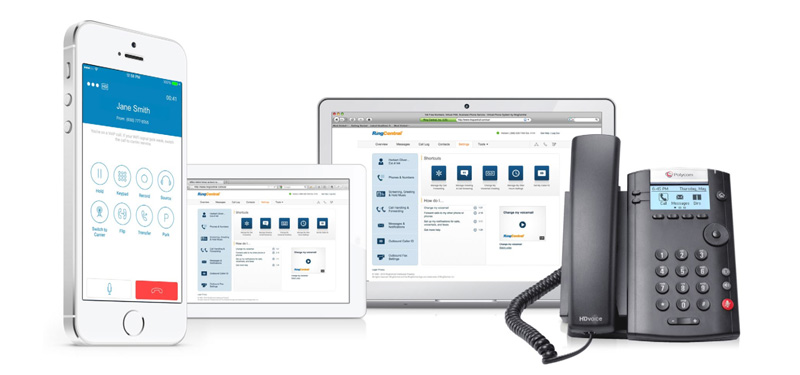 1. Easy Customization
First up, there's no geographical boundary. Instead of having an area or country code that is bound to where your business operates, you can purchase any area code you want. If you decide to move your business to Canada for a time, but maintain a U.S. phone number through your VoIP provider, it's possible to keep all your calls domestic. Likewise, you can purchase multiple area codes and associated numbers very easily and cheaply as you expand your business to new markets. Need to setup calling rules, out of office notifications, call recording, or an auto-attendant? These customizations are made through an intuitive online dashboard which can be managed remotely as needed. Check out more of the standard and advanced features of VoIP Phone Systems.
2. Portability and Geographic Freedom
Next you have the portability of the phone. With VoIP, whether you're using an app on your smartphone, a traditional desk phone, or a program through your computer, there is no issue with portability so long as you have an internet signal. Even if you move to a new office, you don't have to worry; the number that is assigned through your VoIP provider will stay the same regardless of what phone companies are in the area. No muss, no fuss. Gone are the days of having to set up new numbers, move bulky equipment, and potentially change contact information when you move offices. So long as the phone device has proper internet connectivity, it uses the same number everywhere. It's even possible to take your IP phone while you travel, and still have the calls go through. So whether you're at the office, or at a meeting in Vienna, clients and coworkers can still reach you easily (if you want them to!).
3. Increased Employee Flexibility
Third, there is a distinct possibility of increased productivity. By giving employees the necessary tools needed to multitask, VoIP increases the overall productivity of an organization. Many VoIP services allow users to answer their calls directly from their computer, or even cell phones if they are on the road. Business voicemails can be sent via email, or even transcribed and sent via text message for maximum convenience. Users are also able to access enhanced video conferencing experiences, which allow them to conduct virtual meetings and make calls from the company phone number worldwide, or even telecommuting from home. Integrations with DropBox, Microsoft Office programs, Outlook, Support Desks, CRM systems and more further the value of a VoIP system for your employees. These benefits create a smoother communication process and an increase in overall flexibility.
4. Cost Savings
Last but not least, there's a substantial cost VoIP phone systems save small businesses. Cost is considered by some to be the most attractive feature as many companies have experienced a drop in costs up to 60%, depending on their current setup. With VoIP, paying hefty fees for multiple line usage is not a barrier. Rather than being processed over several communication line networks, voice travels over the internet. On top of this, you'll never have to worry about installing new lines again. The equipment hooks directly into your existing broadband network. Switching from traditional telephone systems allows a business to invest funds in other areas of their company, such as marketing or IT.
Ready to Learn if VoIP Phones Are Right for You?
We know that a switch to a different phone system can sound intimidating, but we are here to help! If you're interested in discussing more about VoIP services, please contact us today! To learn more about our VoIP system offerings, check out our Cloud VoIP Phone System page.