If you are a local business owner, you might be looking forward to attending a local event for business owners like you. Luckily, following these tips for how to make the best out of a local business exhibition or expo may help you get the most out of an upcoming event.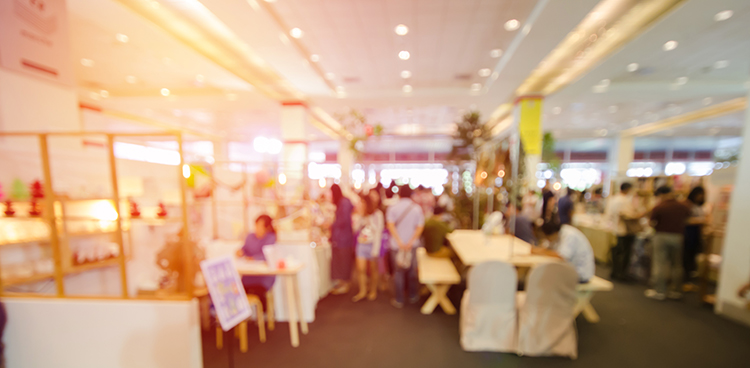 1. Get a Booth with an Ideal Location
First of all, get the best booth that you can. If you're close to the front or the central hub of activity in the exhibition or expo, you won't have to worry as much about getting lost in the crowd, and you'll be super-easy to find. Consider signing up early and paying a little extra (if necessary) to get a big and conveniently-located booth. If you are going to be making the investment (both monetary and your time) to attend the exhibition, it's worth spending more on an ideal location if it yields more conversations.
2. Provide Printed Materials and Don't Run Out!
People love to have something tangible in their hands when attending these events. Make sure that you offer printed materials that provide more information about your business and what it has to offer. Additionally, if you have great promotional and branding items that every attendee can use, the desirability to drop by your booth will certainly increase. If you want to stand out, consider providing branded bags with your marketing materials pre-loaded into the bag. The attendees are most likely picking up a lot of items at the booths, so how great would it be to have them all held within a bag that has your brand name prominently displayed for all to see. Make sure you find out ahead of time if the venue provides bags to guests though!
3. Encourage Social Media Interaction
Make sure that you encourage social media interaction so that you can get people talking about your business on their social media channels. Coming up with a memorable hashtag for the event and encouraging attendees to use this hashtag is one good way to do so. Don't forget to tweet at other exhibitors as it can help to cross promote. Also, if your booth has an entertaining activity, consider taking pictures with the attendees at your booth and ask permission to tag them on Twitter or Facebook. Remember to ask for their Twitter handle or Facebook page. This can drastically improve your visibility both during, and, even more so, after the event.
4. Get People Excited
Get people excited about the event before it even starts by posting about it on social media, creating blog posts about it and plugging it on your website. One of the biggest mistakes of local expos is forgetting to promote the event yourself and solely relying on the host to do all the hard work. Promote your event to your existing followers and encourage them to drop by to see you and bring a friend or business associate.
5. Do Something Different
Don't just do the same boring old things as everyone else. Offer contests, raffles, interactive games, or exciting product demos to get people excited about your booth. Need some help coming up with creative ideas to get people involved? Give us a call!
5.5 Don't Forget the Candy!
Candy may seem like a trivial giveaway that won't help your brand get its name out there, but I can't tell you how many great conversations our company has had by attendees (or even other vendors) who stopped by to grab a bit of chocolate. Use this as a conversation starter!
As you can see, there are steps that you can take to make your experience at a local exhibition or expo a whole lot better. For more advice on promoting your business and for designed promotional items, contact us at Igniting Business today.