3 minutes reading time
(544 words)
6 Content Marketing Tips for Busy Small Business Owners
If you want to build your business online, content marketing is an important part of the marketing mix. However, finding the resources to create a blog, e-newsletters, a how-to video or other types of content is a common obstacle. In a 2015 study by the Content Marketing Institute, 54 percent of respondents said producing engaging content was a major challenge.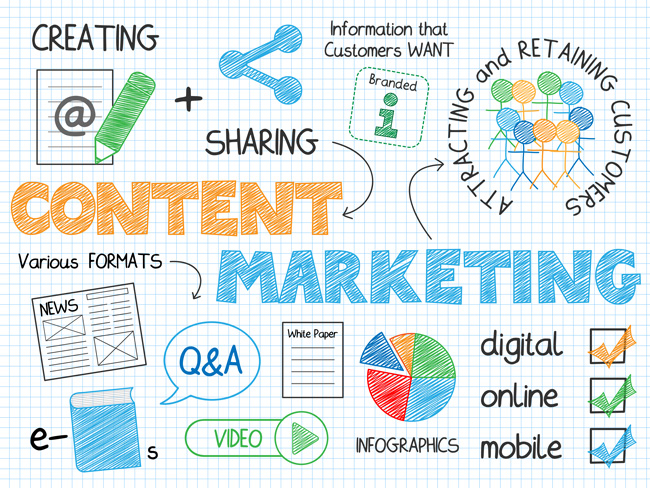 So how do you find time to create all this content and where do you find the budget? Here are some content marketing tips to put you on the right path.
Use what you already have - Have you given a presentation lately, or put together a how-to guide for a customer? With a little work, these types of pieces can become a blog or a demonstration video. Look around at things you've already created and turn them into content to further engage current and potential customers.
Cultivate an employee - You may already have someone on staff who would do a great job of producing content. Talk to your managers to determine if anyone on your team has strong writing abilities and let them submit a couple of sample pieces - written on company time, of course - to see if they can do the job. Often, individuals who like to write will enjoy the chance to break away from the norm and showcase their expertise. You'll not only get content, but also a satisfied employee.
Channel your inner Hemingway - You're the expert. You know a lot about your industry. This is an opportunity for you to share that knowledge. Put down your thoughts and share it first with a trusted employee, or friend, who will be honest about what you've put together. We all know someone personally who is meticulous about grammar and punctuation. Enlist them to proofread for you.
Make it part of your strategy - Content marketing doesn't exist in a vacuum. It should be part of your overall business strategy and work in concert with the other marketing tactics you are using. Plus, you can often get different tactics to do double duty. For example, a how-to blog could be turned into a brochure that you give to customers.
Call on a professional - Hiring someone to help with content marketing may sound like a budget buster, but a successful content marketer can provide major ROI. Review your marketing and advertising budget and look for ways to take advantage of this important tool. Of course, we are always here to help with content marketing services – yes, this is a shameless plug.
Don't forget the call-to-action - Publishing just to publish is great, but to really make content pay off, include some way for your audience to take the next step toward becoming a customer or to make a current customer even more loyal. Your content and goal will dictate the right call-to-action, but here are some examples of actions you might invite them to take: attend a webinar, like you on Facebook or follow you on Twitter, contact you to learn more, download a free e-book, or sign up for your free newsletter.
Feel free contact us to discuss content marketing strategies to achieve your growth goals and marketing tactics. We are always happy to help!