3 minutes reading time
(515 words)
Are META Tags Still Used for Search Engine Optimization?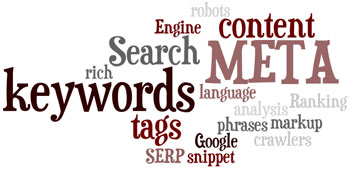 Search Engine Optimization (SEO) is constantly changing. It was only a matter of a few years ago that investing time on having the best META tags and optimizing your META keywords would have a great impact with regards to on page SEO.
Not sure what a META tag even is? Check out our previous blog for a brief overview on what are META tags.
Now, many optimization companies would claim that these tags are ineffective and a waste of time.
As small business owners doing diligent research on how to optimize your website, these conflicting messages can cause confusion. We would argue that META tags overall still have a significant impact on your SEO. However, certain tags have become obsolete. Namely, the META keywords tag, where previously many companies packed their site with keywords and phrases for which they wanted to rank well on Google. Google now states that it does not recognize or index META keywords whatsoever and mentions other META are still relevant to their algorithm.
Two META tags that you cannot afford to ignore:
META Description (outlined in red below) – The META description tag is perhaps the most important tag from a marketing perspective. The META tag may be used to display a snippet regarding your site on the search engine results page (SERP). By implementing an informative and engaging page specific description, you can rank better for exact match phrases and also improve your click through of potential visitors that see your listing in the search engine.

Title (which appears at the top of the browser tab and on SERPs, outlined in blue above) – Though not technically a META tag, the title tag is often associated with META and appears in a similar location in the HTML markup. You can use the title tag to explain the pages content. This tag should be unique (not duplicates of other pages!) and contain the keywords of the page topic in an informative manner for your users. However, you must keep your Title relatively short.
Other META tags that are still worth implementing if applicable:
Robots tag – Instruct Googlebot and other bots to whether or not to index and or follow (extend credibility) to other links on the page. If you do not implement a specific robot tag, the default Google is "Index, Follow" which means the Googlebot should both index your page in the search engine and follow all links on the page. Read more on the available robot meta tags.
Google no translate tag – You can use this tag to tell Google to not translate the page automatically into other languages.
Content Type tag – You can use this tag to communicate the page's content type and character set. Typically the commonly accepted standard is Unicode/UTF-8.
Keep in mind that META tags, effective or not, are only one small part of your search engine optimization strategy.
Are you still a little unsure on the value of using META tags? Check out this video by Matt Cutts, distinguished software engineer and leader of the Search Quality Team at Google: