5 minutes reading time
(920 words)
4 Local SEO (Search Engine Optimization) Myths Debunked
Local search engine optimization (SEO) is the process of improving search engine visibility for local businesses such that their websites rank higher for searches that have a local intent - e.g. "coffee shops" or "electrician near me." Local SEO makes it easier for nearby online searchers to find your small business for your target keywords. Implementing local SEO best practices optimizes your web presence, allowing your website to garner more attention and draw prospective clients to your business.
While there is a ton of valuable information regarding local SEO available online, there is also no shortage of myths concealed as facts. Keep reading to discover four local SEO myths that you should no longer believe.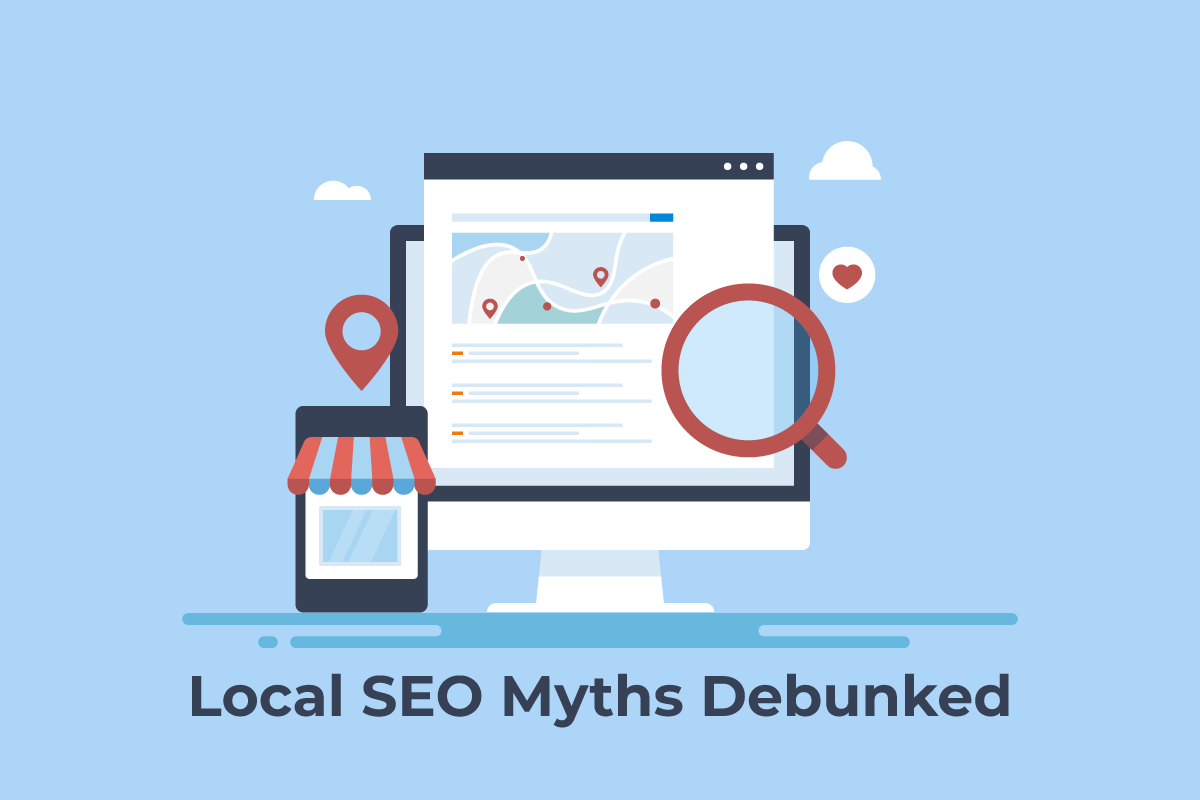 1. Organic Search and Local SEO Tactics Are the Same
It is not uncommon for people to use the two terms interchangeably. After all, they both involve optimizing one's online presence on search engines. However, Local SEO is a more specific sub-type of organic search and has different tactics.
Organic search focuses on optimizing content and information to rank higher in search engine results. It targets those researching for information and solutions without necessarily looking to find a vendor locally. "How to make a turkey" or "best LED TV" are both examples of organic searches that don't likely have a local intent.
Local SEO, on the other hand, has a geographic component. It seeks to drive traffic to your business by ranking your business higher for local-based searches. Local SEO targets searchers looking to buy a product or service specifically near them. Searchers with local intent often include the type of product or business plus the desired location in their searches to generate results which they act upon when making their purchases. "Best restaurant in Kansas City" or "plumbers near me" are examples of local-based searches. However, the searcher does not have to specify a city's name or the phrase "near me" to trigger local search.
Search engines, like Google, do their best to "guess" if the search query has a local intent. For example, if you type "coffee," into a Google search, Google will guess that you likely want local coffee shops. Their results will have a mixture of local results, including the Google Map Pack (or Google Local Pack) and organic results talking about coffee's nutritional facts and the history of coffee in general.
While some tactics overlap, ranking locally and organically are ultimately very different from one another.
2. Consumers Want the "Best" and Are Willing to Travel to Get It
Research shows that 90% of consumers travel 20 minutes or less to make daily purchases. As much as consumers may want the best, they also want their desired products or services close by, hence the increase in local-based searches. Additionally, Google implements a proximity bias that tends to favor businesses closer to the searcher's location. This makes it even more critical to have all your search engine optimization ducks in a row to give your business the best chance of winning customers online!
3. Google Prioritizes the Big Businesses
The notion that Google blindly prioritizes big businesses over small businesses is not true. While there are hundreds of factors that Google considers, one of them is backlinks. Each time your business' website gets a backlink from another relevant site, it's like a handshake passing credibility from the linking website to yours. Since big franchises naturally have lots of backlinks due to their hundreds or thousands of locations within various communities, they certainly have a leg up over single-location small businesses.
That said, backlinks are only one factor out of hundreds. Additionally, small businesses have the unique ability to pivot much quicker than big businesses. For example, if you want to make a change on your Google Business Profile or publish great new content on your website that can help SEO, you can do it rapidly! Big businesses must go through tons of hurdles and internal reviews just to get small changes made. If quality SEO is prioritized, small businesses can leverage their speed and flexibility to outrank bigger brands!
4. Reviews are "Nice-to-Have" but Not Necessary
According to BrightLocal, over 90% of customers read online reviews before making purchasing decisions; online reviews are a must-have for your business! Having and responding to online reviews not only shows proof that customers have purchased and tried your product and/or service, it also shows that you treasure customer feedback and are willing to engage them to better their experience. Consistently getting and responding to genuine online reviews are among the top ranking factors for local SEO in our opinion.
Tools to Make Local SEO Easier
If you're wondering how your company ranks local or nationally, check out the awesome rank tracking tool by BrightLocal that shows how you rank within your city, zip code, or even at a block-by-block grid level. You can also use BrightLocal to manage and monitor your local citations on local business directories.
You can also try out Semrush for free which has powerful SEO auditing tools for your website, invaluable feedback to help improve your content, and helpful backlink research and building systems.
Contact Our Local SEO Experts
At Igniting Business, we strive to help you improve your small business' local SEO. For more local SEO tips, subscribe to our newsletter! To Learn more about our ongoing SEO services, contact our team today!
At no additional cost to you, we may receive a commission if you click on some of the links on this website and make a purchase.