3 minutes reading time
(575 words)
FAQ: How does Google My Business Display My Business Listing?
As we all know, Google has become so much more than just a search engine. As the world wide web has evolved, so has Google and its ability to address the needs of so many users. One area that continues to evolve is how Google displays your business information.
Common questions we hear from our clients are: "I just don't understand how Google displays my business information." or "I feel like every Google Platform showcases my business differently."
The simplistic answer to these questions: Google has many "views" to your business, and each view (or platform) does not necessarily show the same thing. Each platform serves a distinct different purpose.
Primary "Views" for Businesses on Google
Google Search: This view of your business is what shows up when you literally search your business on google.com. You may see your business in up to 3 different places within searching on Google!

Organic Results – These are the different URL results generated based on the search terms. The only way to impact what displays here is through SEO tactics – you cannot specifically tell Google what to display but simply make "suggestions" through proper SEO.
Side panel/stack – This is a quick overview of your business. You have the ability to update a majority of this data with Google through the Googly My Business platform discussed later. It displays photos, general business information, and reviews.
Ads Section – These are the URL results denoted with a green Ad icon. They are powered by Google AdWords and require a separate Ad campaign with Google AdWords.



Google Maps: This view of your business is what shows up when you search for your business on the maps.google.com platform. It displays photos, general business information, and reviews. Of course, it also can generate directions to your location.


Google+: This view of your business is designed to be a more interactive social media experience with your visitor. It displays an About section for your business, photos, and specific posts by your business. It does not display reviews.

Google My Business
All of these "views" of your business are tied together even though they showcase different information. They can all be accessed through the Google My Business platform.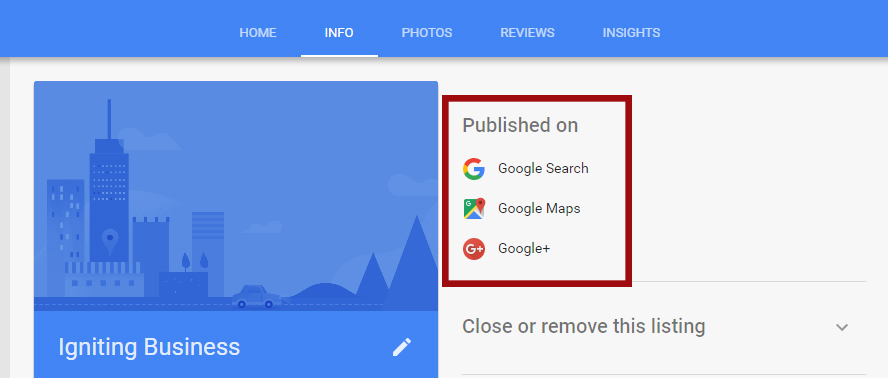 However, the Google My Business platform is only an updating tool – it is not front-facing to the world and people searching you will never go to Google My Business. If you are an admin on your business listing, you can update company information, photos, and see/respond to reviews from Google My Business.
Cautionary Note on Updates
We do need to caution you though in updating your business information in the Google My Business platform. We recommend you respond to reviews as they come in. However, other information should be updated sparingly and with specific intentions. We say this because Google can "punish" listings that are altered too frequently if they feel you're trying to manipulate the search engines. There is no exact science, but we recommend checking with a Search Engine Optimization specialist or firm before you frequently update items on your Google My Business portal outside of review responses.
Want advice on how to optimize your business listing or how to best utilize each platform? Our experts at Igniting Business believe an integral part of your Search Engine Optimization strategy is consistent, well-optimized business directory listings – including the various Google platforms. Contact our Search Engine Optimization team today for more information.