1 minute reading time
(292 words)
Igniting Business Tests Google Glass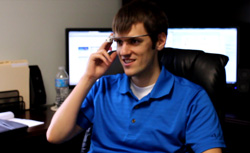 You may have heard some buzz recently about the new Google Glass. Well Igniting Business had the opportunity to test it out, courtesy of our new friend David Drum, Research Manager at MOREnet. As a Glass Explorer, David had the chance to test and give feedback to Google regarding the Google Glass technology, and he shared his thoughts with us.
As you can probably guess from the pictures, Glass is very fun to try out. The voice recognition is fantastic, and the display does not block your main field of vision.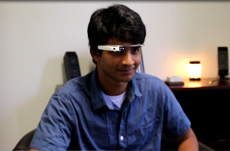 The computer screen prism sits safely in the upper right-hand corner of your field of vision. In addition to being WiFi enabled, Glass can connect with your phone via Bluetooth which takes advantage of 3G or 4G, so that you can post to Facebook, share a video, use the impressive built-in maps application, or even send a message without having to use your hands. But how useful is it for businesses?
It's no doubt that Google Glass is handy and can help eliminate some inefficiencies, but, as of now, it would be a stretch to say that it is going to revolutionize business and culture. Only time will tell though as adoption and usage increases.
Most would agree that Glass in its current state can be helpful for on-the-go people who would benefit from being able to answer emails and messages while walking, driving or any other regular task. And, of course, it is an entertaining tool for personal use. As new apps and improvements arrive, we will see how much potential Google Glass really has.
On a closing note, check out David Drum's Google Glass video of a
Also, here is Google's promo video on How it Feels through Glass: