There are so many social media platforms out there today, it is difficult to remember which one does what. Come next month, a new one will probably be popping up. For this blog post we take a look at eight of the most popular social media platforms and define them in one sentence using phrases from the associated companies' websites. Following those definitions, you might find an image that explains what each is even more clearly.
According to the Companies:
Twitter - a real-time information network that connects you to the latest stories, ideas, opinions and news about what you find interesting (in posts that are 140 characters or less).
Facebook - keep up with friends, upload an unlimited number of photos, share links and videos, and learn more about the people they meet.
Foursquare - keep up with friends, discover what's nearby, save money and unlock deals.
Instagram - a fast, beautiful and fun way to share your life with friends through a series of pictures.
YouTube - discover, watch and share originally-created videos.
LinkedIn - manage your professional identity, build and engage with your professional network.
Pinterest - organize and share all the beautiful things you find on the web.
Last FM - a music recommendation service which helps you discover more music based on the songs you play.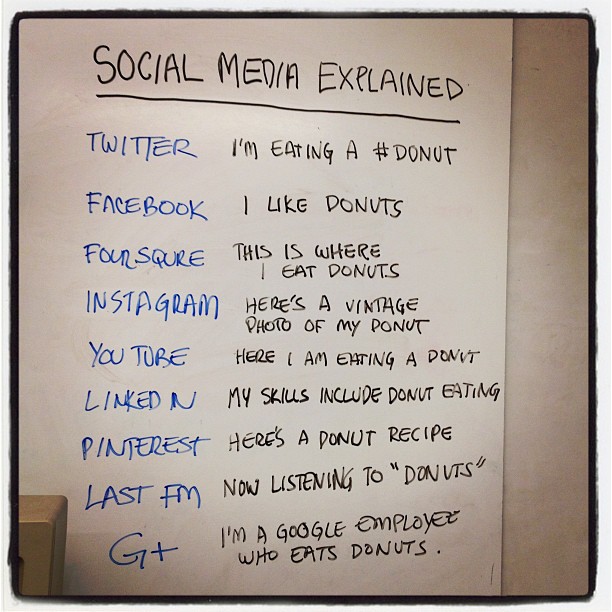 So, which explanation do you like better?
Oh, and by the way, I found this image on Instagram.