5 minutes reading time
(913 words)
Systematically Tracking Your Marketing Efforts to Streamline Campaigns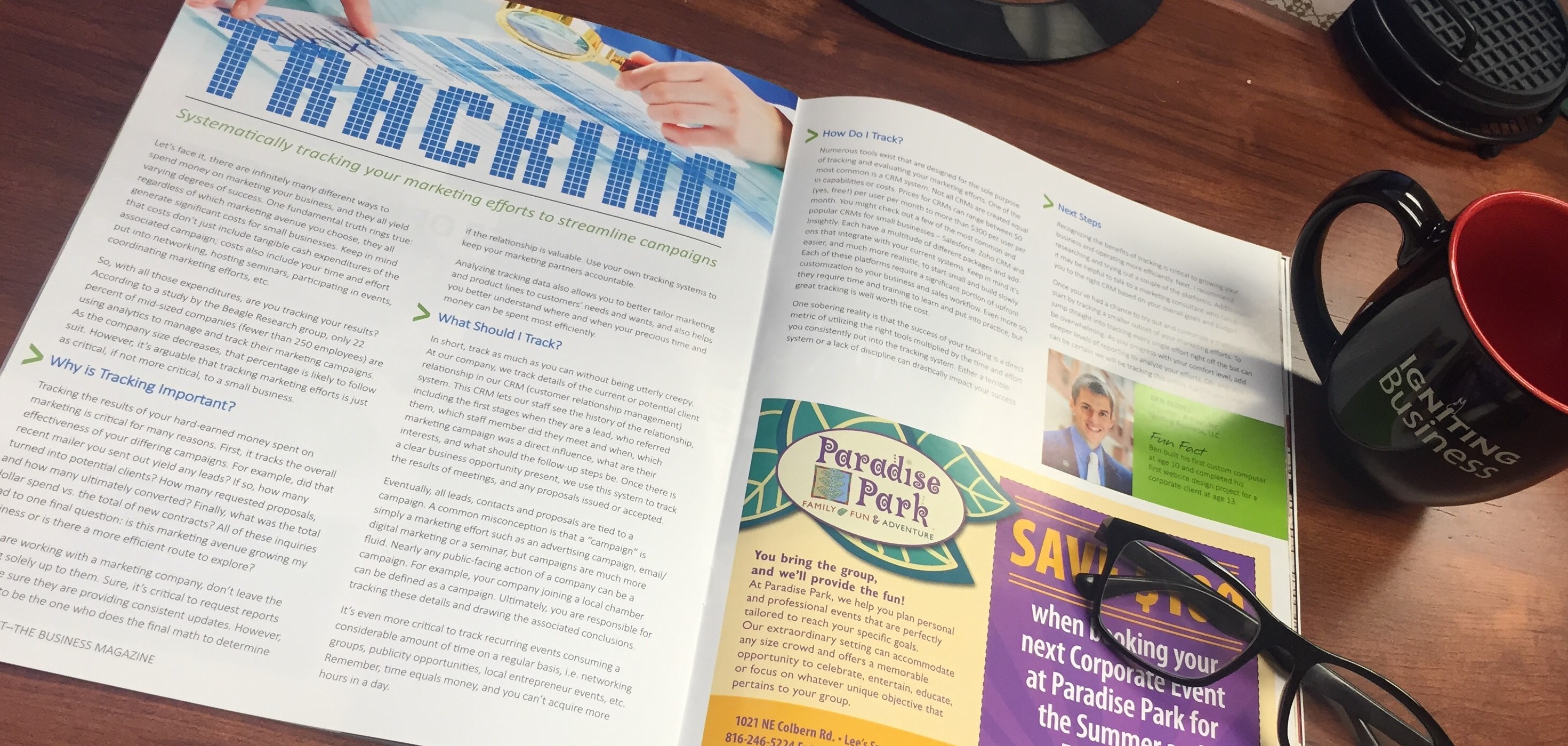 Article originally featured in the Lee's Summit Chamber of Commerce's business magazine called Catalyst. You can see the original article in their magazine here: https://issuu.com/lschamber/docs/july_catalyst_web/37?e=2252703/37156764
Let's face it, there are infinitely many different ways to spend money on marketing your business, and they all yield varying degrees of success. One fundamental truth rings true: regardless of which marketing avenue you choose, they all generate significant costs for small businesses. Keep in mind that costs don't just include tangible cash expenditures of the associated campaign; costs also include your time and effort put into networking, hosting seminars, participating in events, coordinating marketing efforts, etc.
So, with all those expenditures, are you tracking your results? According to a study by the Beagle Research group, only 22 percent of mid-sized companies (fewer than 250 employees) are using analytics to manage and track their marketing campaigns. As the company size decreases, that percentage is likely to follow suit. However, it's arguable that tracking marketing efforts is just as critical, if not more critical, to a small business.
Why is Tracking Important?
Tracking the results of your hard-earned money spent on marketing is critical for many reasons. First, it tracks the overall effectiveness of your differing campaigns. For example, did that recent mailer you sent out yield any leads? If so, how many turned into potential clients? How many requested proposals, and how many ultimately converted? Finally, what was the total dollar spend vs. the total of new contracts? All of these inquiries lead to one final question: is this marketing avenue growing my business or is there a more efficient route to explore?
If you are working with a marketing company, don't leave the tracking solely up to them. Sure, it's critical to request reports and make sure they are providing consistent updates. However, you need to be the one who does the final math to determine if the relationship is valuable. Use your own tracking systems to keep your marketing partners accountable.
Analyzing tracking data also allows you to better tailor marketing and product lines to customers' needs and wants, and also helps you better understand where and when your precious time and money can be spent most efficiently.
What Should I Track?
In short, track as much as you can without being utterly creepy. At our company, we track details of the current or potential client relationship in our CRM (customer relationship management) system. This CRM lets our staff see the history of the relationship, including the first stages when they are a lead, who referred them, which staff member did they meet and when, which marketing campaign was a direct influence, what are their interests, and what should the follow-up steps be. Once there is a clear business opportunity present, we use this system to track the results of meetings, and any proposals issued or accepted.
Eventually, all leads, contacts and proposals are tied to a campaign. A common misconception is that a "campaign" is simply a marketing effort such as an advertising campaign, email/digital marketing or a seminar, but campaigns are much more fluid. Nearly any public-facing action of a company can be a campaign. For example, your company joining a local chamber can be defined as a campaign. Ultimately, you are responsible for tracking these details and drawing the associated conclusions.
It's even more critical to track recurring events consuming a considerable amount of time on a regular basis, i.e. networking groups, publicity opportunities, local entrepreneur events, etc. Remember, time equals money, and you can't acquire more hours in a day.
How Do I Track?
Numerous tools exist that are designed for the sole purpose of tracking and evaluating your marketing efforts. One of the most common is a CRM system. Not all CRMs are created equal in capabilities or costs. Prices for CRMs can range between $0 (yes, free!) per user per month to more than $300 per user per month. You might check out a few of the most common and popular CRMs for small businesses – Salesforce, Zoho CRM and Insightly. Each have a multitude of different packages and add-ons that integrate with your current systems. Keep in mind it's easier, and much more realistic, to start small and build slowly. Each of these platforms require a significant portion of upfront customization to your business and sales workflow. Even more so, they require time and training to learn and put into practice, but great tracking is well worth the cost.
One sobering reality is that the success of your tracking is a direct metric of utilizing the right tools multiplied by the time and effort you consistently put into the tracking system. Either a terrible system or a lack of discipline can drastically impact your success.
Next Steps
Recognizing the benefits of tracking is critical to growing your business and operating more efficiently. Next, I recommend researching and trying out a couple of the platforms. Additionally, it may be helpful to talk to a marketing consultant who can guide you to the right CRM based on your overall goals and budget.
Once you've had a chance to try out and customize a platform, start by tracking a smaller subset of your marketing efforts. To jump straight into tracking every single effort right off the bat can be overwhelming. As you progress with your comfort level, add deeper levels of reporting to analyze your efforts. Oh, and you can be certain we will be tracking this article itself in our CRM!