3 minutes reading time
(652 words)
The Difference Between a CMS and a Website Builder Platform
When it comes to your small business website, content management systems (CMS) and website builders can help make editing and updating your site and content easy. But how do you choose between a CMS and a website builder? While both options are extremely helpful and streamline web management, each have unique pros and cons which you should consider before choosing to go with one or the other. Keep reading to discover the differences between a CMS and website builder and how to choose the right system for your small business.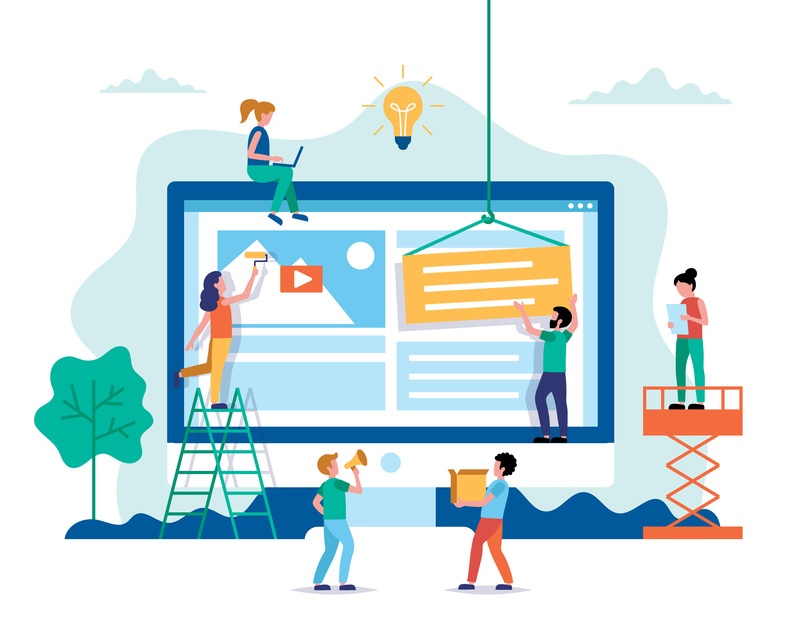 What Makes a CMS Different from a Website Builder?
A content management system (CMS) is an online tool with either pre-designed themes that you can tweak dramatically as you please, or you can create a theme from scratch for a completely custom website. A website builder is also a web-based tool; however, it comes with a set number of fixed templates to choose from depending on your website needs.
Pros of Using a CMS
You can customize your website design without restriction.
Adding and updating content is a straightforward process which doesn't involve owning web development software programs.
A CMS has SEO tools and plugins to help boost your website ranking.
A CMS is pocket-friendly.
Using a mainstream, open-source CMS like Joomla, WordPress, or Drupal allows for maximum compatibility in the future. There are thousands of web developers that can offer you support on the aforementioned CMS platforms.
When you build a website on a CMS like WordPress or Joomla, you own the website and can move it to whatever web hosting platform you'd like in the future.
Cons of Using a CMS
A CMS requires time for regular updates and subscription fees for any paid add-on plugins/components.
Learning how to properly use a CMS does require training or the help of a third-party web developer.
A CMS can pose a larger security risk if not regularly maintained.
Pros of Using a Website Builder
Website builders are very easy to use.
You don't typically have to worry about security, maintenance, and backups.
Website builders can help you create and setup your website quickly.
Website builders are typically cheaper to get a quick, simple site launched vs. a custom site on a CMS.
Cons of Using a Website Builder
Website builders don't allow for full customization.
Website builders come with limited SEO options.
You are limited on the number of pages you can create and only have access to a predefined list of features from which to choose.
The website builder platform is fully in control of price and what features get developed for the platform. If the website builder platform decides to raise prices or remove key features, you are forced to live with it, or build a new website elsewhere.
When you create a site with a website builder, you cannot move the site or migrate it to a different platform or hosting device. You are paying a subscription fee to use the website builder platform, and when you stop paying, you lose your website.
Why a CMS is the Better Option for Your Small Business Website
When it comes to your small business, having a website with quality design and content, professional features, and that is fully optimized for SEO is essential. With a CMS, you can fully customize your website, add as many pages and features as necessary, and easily update and optimize your content to create and manage a website that works best for your small business. Nine times out of ten (or more!), we often recommend a CMS over a Website Builder for our small business clients. However, when budgets are exceptionally tight, and you simply need a quick starter website, website builders can often serve as that first step.
At Igniting Business, we build new websites specifically on the Joomla CMS. To learn more about our content management system and web design services, contact us today!