3 minutes reading time
(630 words)
The Importance of Good Product Photography
Did you know that the majority of us learn best with the use of pictures, color association and observation? The importance of great product photography may make or break your website demand and especially your ecommerce sales. The more appealing and clear your products look, the more you will sell. This is really the case not just for products, but for any photographs featured on your website. The better they look, the more traffic you will drive in.
I have included a few things to consider before hitting the upload button.
1. NATURAL LIGHTING VS. ARTIFICIAL LIGHTING SETUP
Each has particular pros and cons, but it is important to understand the difference. Artificial lighting allows for you to take the photo at a higher shutter speed, allowing you to easily manipulate the sharpness and quality of the final photo. Another positive aspect of artificial light is the benefits of strobe flashes. Strobe lights put out bursts of light only when you take the photo, saving energy, with the burst of light making for exceptional product photography. Natural lighting makes for great mood lighting and scenery photographs. Say your business sells outdoor lawn equipment, taking outdoor product photography can sometimes help the customer get a better feel for the product, as well as making for more visually appealing photographs. It is also crucial to know the do's and don'ts of natural lighting. Click this link for a list of the do's and don'ts of using this as a light source. http://www.pixcphotos.com/product-photos/product-photography-using-natural-lighting/

Regardless of which lighting you use, all photographs must be high resolution and easy to view at multiple sizes.
2. ATTENTION TO DETAIL
The more unique your product photography is, the more a customer is going to want to buy your products, as well as increase trust in your company. I've said it once, but I'll say it again, high quality photos are a must! This will not only make your products look more attractive, but will give customers the full experience. Another important aspect is alternate views. Whether it be clothes, outdoor equipment, accessories or furniture to name a few, multiple views of your product will allow for the customer to picture themselves wearing, using, or relaxing in or on the product. Paying attention to these different things are the best to achieve success.
3. COLOR AND MODEL
The majority of products featured online come in different colors, sizes, models, etc.; just listing these different styles isn't always enough. Customers are going to have a harder time visualizing themselves with the product without seeing it in the specific color, size and or model they want. No one likes surprises when ordering specific products; multiple photos of each option available will increase customer satisfaction as well as their loyalty to your business.
4. HIRING A PROFESSIONAL PHOTOGRAPHER VS. TAKING YOUR OWN PRODUCT PHOTOGRAPHS
If you're like me, your initial thought would be to take the photos yourself, because why would you pay someone to do something you yourself are capable of doing? But you have to understand the time and money commitment, especially if you aren't familiar with using a high quality camera and all the expensive equipment it comes with. Take a look at this pro/con list to decide which direction you should go.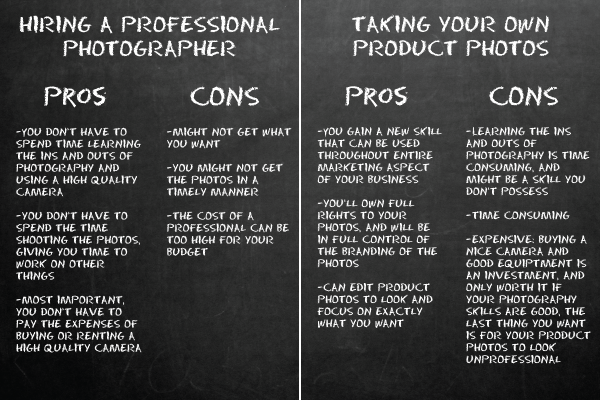 Taking the time to have unique and high quality product pictures will only benefit your business, leading to more clicks and sales than before. If you are looking to customize your product photos for social media, check out Canva. If you need help with your product photography for your website or marketing materials, feel free to contact Igniting Business for more information.
At no additional cost to you, we may receive a commission if you click on some of the links on this website.