3 minutes reading time
(508 words)
Why Your Small Business Should Have a Blog
When we sit down with our small business clients for a web design or marketing meeting, we often ask if they have considered adding a blog to their website. Many clients claim they would not be good at blogging or that it is not necessary in their industry.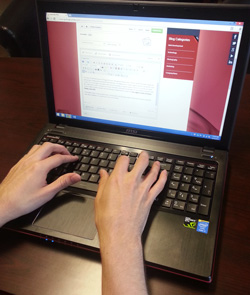 On the contrary, we believe a blog is an essential marketing tool that every small business could benefit from if executed properly. Blogging is a powerful tool to keep existing customers up-to-date with the latest news, deals, and ideas. Publishing new and relevant content on a regular basis provides your customers a reason to come back and visit your website.
Furthermore, blogs are tremendous assets at recruiting new clients. Modern Search Engine Optimization (SEO) rewards sites that are updated frequently with unique content. Your services page may detail what you offer, but it can only be so unique and has limited opportunity for regular updating. Yet a blog has the full freedom to share your own voice and experiences. A blogger is not limited to their own service or product offer, but can share tips, tricks, and experiences within that industry. For example, a plumber could generate traffic to his website by publishing a blog on "Tips for Winterizing the Pipes in Your Home." This, though not directly a service offering, can then be served to people who are inquiring on the topic.
Is a Blog Right for My Industry?
In our experience, nearly every industry could have articles published which would benefit readers. One must identify hot topics that your customers are concerned about and are searching on Google.
In fact, if blogging is not very common in your industry (for example, plumbing), then you may see the benefit of blogging even quicker than other industries that are more saturated with written content, such as Marketing or Finance. To return to the winterizing your plumbing system example, if fewer bloggers are publishing about that topic, the higher the chances you will appear in top ranking positions on search engines for the associated keywords.
How Do I Start a Blog for My Small Business?
There are three considerations before starting a blog before your business:
Identify who will contribute to the blog and what the process looks like for authoring and posting the article on the website.
Research topics that are of interest to your target market to determine what you should write about.
Construct a posting schedule that is both beneficial to the company and realistic. Posting a blog only once a quarter is too infrequent to merit creating a blog system. However, 2-4 posts per month is an excellent starting point for a small business.
If you need assistance getting started, feel free to contact us for help implementing a blog into your company's website. Blogging is a powerful tool, but it also is imperative to create it properly in order to receive the most benefit from search engine indexing. Check back to our blog next month for an overview of 6 types of blog topics for your business.