When it comes to e-commerce websites, there are many different e-commerce solutions available, each offering their own unique set of functionalities. To ensure the success of your e-commerce store, it is important to choose an e-commerce platform that works best for your small business both in the immediate and for long-term growth.
Today, WooCommerce (a plugin for WordPress) and Shopify (a standalone e-commerce platform and website builder) are two of the leading e-commerce platforms. Both offer their own specific advantages and disadvantages, and it is important to understand their differences to choose the platform that will best suit your business model.
In this blog, we compare both e-commerce platforms to help you make a sound business decision.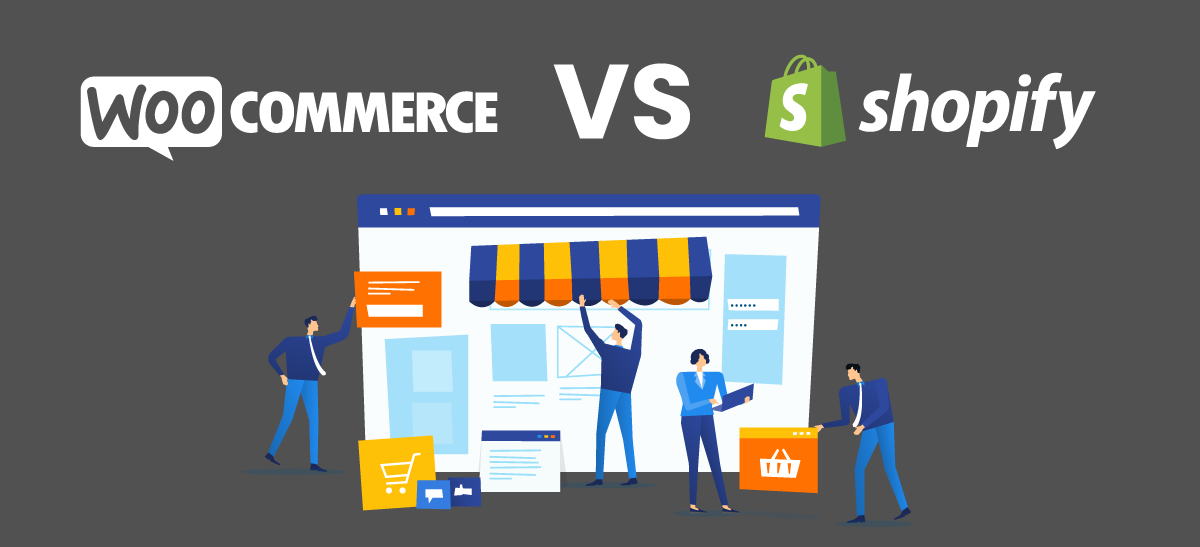 WooCommerce
WooCommerce is a good e-commerce system. As an open-source e-commerce plugin for WordPress sites, it offers several benefits including:
Free initial installation
Numerous customization options
Great flexibility
Large community of users for support
However, though it is free to install, there are many downsides and costs of using WooCommerce as well including the following:
First and foremost, to run WooCommerce, you must have a fully functioning website on WordPress which typically requires quite a bit of learning, or the help of a third-party website developer to get started.
Many extensions of WooCommerce require a one-time payment or, more commonly, monthly fees which include updates for the specific extension and support.
Implementing a payment gateway, inventory management aids, specific subscription services, and other utilities will require additional fees and plugins to manage.
In addition, you will also have to set up and pay for your own web hosting, SSL certificate, and content delivery network (CDN).
When using WooCommerce on WordPress, you are responsible for maintaining an updating the website's core code and plugins which takes time and knowledge or requires hiring a web developer.
If you already have a well-designed WordPress website and are simply looking to add some basic e-commerce functionality, adding on WooCommerce might be the way to easily get started with selling products online.
Shopify
On the other hand, Shopify is an very user-friendly e-commerce solution with plenty to offer right out of the box. Shopify outshines WooCommerce in its easy ongoing maintenance and low cost of entry. When it comes to inventory management, payment acceptance, and robust features, Shopify leads the way.
Shopify users needn't worry about integrating various functions. The Shopify platform is a complete, all-in-one platform with minimal barriers of entry. You can start with the $29/month package and upgrade as you progress. The $29 monthly package includes the full e-commerce platform, a payment gateway, website hosting, CDN, SSL certificate and more. Many of these same features would be charged separately if building a site on WooCommerce with WordPress.
Other benefits of using Shopify include the following:
Included payment gateway for processing orders via e-commerce, by phone, or in-person.
Exceptional built-in integrations for shipping and tax collection
Lower ongoing costs with minimal maintenance required
Web hosting and web security are included
Multichannel integration allows you to connect your Shopify store to additionally sell on third-party platforms like Facebook, Instagram, Amazon.com, Point-of-Sale (POS), etc.
Negotiated discounts with 3rd party shipping companies.
App store with free and paid apps to extend Shopify's functionality if more unique features are needed.
24/7 technical support available via email, live chat, or phone at no additional charge
If you are looking to start with a new e-commerce store or switch from a different e-commerce platform for better functionality, Shopify is definitely the way to go in our opinion. Our team has been extremely impressed by the Shopify platform's robust features and reasonable pricing.
Get a 14-day free trial of Shopify today.
Want to Try Shopify Out on Your Own
Perhaps you are a do-it-yourselfer or quite tech savvy. If so, you may be able to get started on Shopify all on your own! Thankfully, Shopify has tremendously detailed documentation and an excellent support team available 24/7 at no additional cost.
What's more, Shopify provides a free 14-day trial to give their e-commerce system a spin. Try it out today!
Contact Our Team for Shopify E-Commerce Web Design Help
Due to its numerous benefits and user-friendliness, our web design specialists at Igniting Business believe Shopify is the best e-commerce platform for small businesses.
As a Shopify Partner, we offer quality e-commerce design and setup services to deliver exceptional solutions to you and your customers. For more information regarding our e-commerce development services, or to learn more about Shopify, contact us today!
At no additional cost to you, we may receive a commission if you click on some of the links on this website and make a purchase.