4 minutes reading time
(771 words)
4 Blogging Myths Your Small Business Should Ignore
Blogging is a form of content marketing that has been around for years. When done correctly, blogging can help your small business build engagement, boost your search engine rankings, and generate more leads. However, due to the ever-changing digital landscape, blogging can be quite nuanced and knowing which blogging practices are effective can be challenging. Keep reading to discover four blogging myths your small business should stop believing today!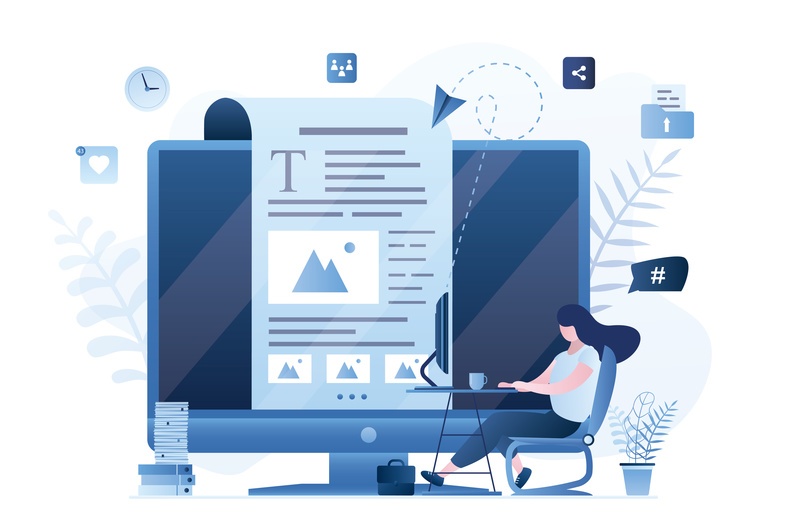 Myth 1: You Have to Write and Post Every Day
Many businesses believe that the more online content they have, the higher their chances are of getting noticed. However, when it comes to blogging, quality always trumps quantity. While it is important to maintain an active online presence, it is better to write a few good quality blog posts every month than to post sub-par content every day. In order to keep your search engine rankings up and your readers interested, we recommend most businesses shoot for posting new or revamped content at 4 times a month.
Myth 2: Blogging is a Dying Trend
Due to the amount of digital content available today, many businesses believe blogging is a dying trend. However, that is not the case. In fact, blogging is the third most common content marketing strategy and remains one of the most effective forms of content. Additionally, there are numerous industries where blogging is still very uncommon. If you work within an industry where your natural tendency is to question how in the world you would create blog content, you are likely in the perfect industry to start blogging!
Myth 3: Simply Building a Blog Will Increase Your Traffic
While consistent blogging is an effective way to boost your rankings, simply building a blog will not increase your traffic. Your blog is a passive investment until you do something to enhance its visibility. The first step in a quality blog is knowing what types of topics your audience cares about and are actively searching for via search engines. Additionally, to attract more readers and potential customers, it is important to construct a solid strategy to actively promote your content. Guest appearances on podcasts and webinars, posting updates about each new blog post on your social media profiles, outreach to industry-specific influencers, search engine optimization (SEO), and sending monthly newsletters are just a few ways to promote your small business blog.
Myth 4: You Can Write About Anything
In order to boost your search engine rankings, attract readers, and increase conversions, it is essential to keep your niche and the interests of your target audience in mind when creating topics and content for your blog. Writing about topics irrelevant to your small business industry will only turn readers away. Additionally, a plethora of off-topic, or seemingly random, posts can confuse search engines like Google regarding where your expertise truly exists.
Contact Our Blogging Experts
At Igniting Business, we understand that blogging takes time you may not have as a small business owner. With our blogging packages, we can help your small business reap the benefits of blogging without most of the work. To learn more about our blogging services, or to schedule and complimentary consultation, contact us today!
Looking for Blogging Tools to Help You Blog Better and Faster?
We understand that you may want to take on blogging in-house, but simply need a few tools to make the blog development process easier. The following are just a few of our favorite tools:
It is very important to have compelling graphics and images within your blog posts to keep readers' interest as well as visually explain complex topics. We recommend checking out Canva to easily create graphics for your blogs posts. Canva's drag-and-drop graphic design editor is one of the best in the industry. Try Canva Pro for free.
Quality images and illustrations can help enhance a blog post greatly, and you may not always have the time or resources to capture an original photo or create an illustration from scratch. As an alternative, Adobe Stock can be an excellent source for affordable high-quality stock photography and illustrations. Explore Adobe Stock's library of images and illustrations.
If you are looking for an SEO tool to help you understand what topics are trending, what pages are ranking for given keywords, and how you can SEO optimize the structure and content of your blogs, we recommend checking out the awesome SEO and content marketing tool by Semrush. Try out Semrush for free today.
At no additional cost to you, we may receive a commission if you click on some of the links on this website and make a purchase.