Technology continues to grow by leaps and bounds and extraordinary website design is no exception. Throughout this year, several web design trends have increased in popularity. All of these popular trends work together to provide users with greater function and a more intuitive interface, while enveloped in an eye-pleasing experience. Check out these five popular web design trends of 2021.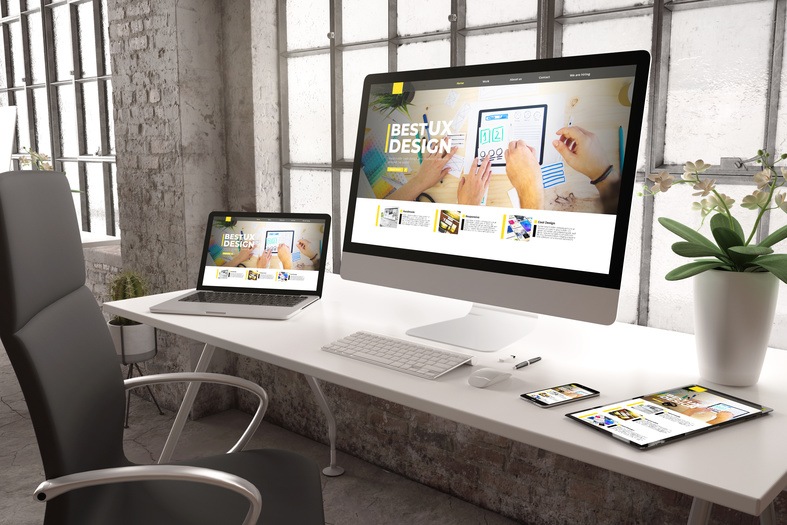 1. Retro Fonts
In design, minimalism has become very popular in recent years, so it should come as no surprise that the trend has made its way to web design. Specifically, minimalist retro fronts are becoming a notable trend when designing web pages. Retro fonts encompass essential elements such as:
Simple text
Generous use of space
Simple typefaces
Emphasis on readability
2. Muted/Calming Colors
While just a few years ago companies may have hoped to attract more business by using an attention-grabbing, complex color scheme or perhaps numerous punches of color here and there, today's website design has come full circle.
With so many people online today, eye-fatigue is a real thing. In addition, users are no longer impressed by a page that looks exciting but doesn't actually deliver useful content. Softer color palettes are becoming more popular than ever, enabling users to feel calmer and more centered as they go throughout their day.
However, the goal is that these calming colors accent/complement the primary content and provide an easy-to-navigate and relaxing website.
3. Dark Mode
Adding a dark mode feature to a website is starting to become more popular in web design. With so many people working remotely, not to mention their personal use of technology, users are looking at device screens more throughout the day and during the evening hours. By inverting a site's normal light/dark scheme, a dark mode feature helps to
Reduce eye-strain in low-light conditions
Improve battery usage
Enhance key design elements
Note that dark mode options for a website is still up-and-coming as it presents numerous design challenges. However, it's important to consider this feature as it will be come more common over the next couple of years.
4. Parallax Scroll Animations
Parallax scrolling animation is an optical illusion that tricks the viewer into seeing close up objects moving faster than objects that are further away. The overall experience is similar to viewing nearby scenery as one passes by in a moving vehicle.
Unlike the eye-catching movements that some web pages displayed in recent years such as bouncing orange balls across the screen and other similar theatrics, parallax scrolling animation is a subtle way to add visual interest to a page without overwhelming the user.
Parallax effects are not new to the web design scene as they have been popular for images for some time. However, now parallax scroll animations are now being more frequently applied to specific objects on a page, or textures, which adds a layer of depth to design or even a 3D feeling.
5. Increased Emphasis on Page Speed
With Google's Page Experience Update beginning official rollout in June 2021, it is becoming more and more important to have a fast-loading website. Google's Page Experience Update includes new Core Web Vitals which will have a direct impact on Search Engine Rankings.
With a heightened awareness and emphasis on a fast-loading website, some companies are choosing to emphasize speed over overly fancy features that might look good, but negatively impact your page speed.
If you are looking to boost your website's speed, do not forget to also make sure your website is being hosted on a quality web hosting server. For maximum performance and reliability, we recommend hosting your website at KnownHost or LiquidWeb – two of our favorite web hosting companies! You can also consider using a CDN (Content Delivery Network) like StackPath to relieve some stress on your server and deliver a quicker user experience.
Contact Igniting Business
As a small business today, having a fully functional, eye-catching website is imperative. At Igniting Business, our web design experts are here to build you a beautiful website that's sure to put your small business ahead of the competition. For more web design trends, or to learn more about our web design services, contact us today!
At no additional cost to you, we may receive a commission if you click on some of the links on this website and make a purchase.