2 minutes reading time
(428 words)
6 Eye-Catching Trends in Web Design
Web design is constantly changing to offer consumers experiences on the web that are fast, easy-to-use, and visually appealing. If you're looking to improve your small business website, keep reading to check out six top trends in web design that you may want to consider to attract more potential customers.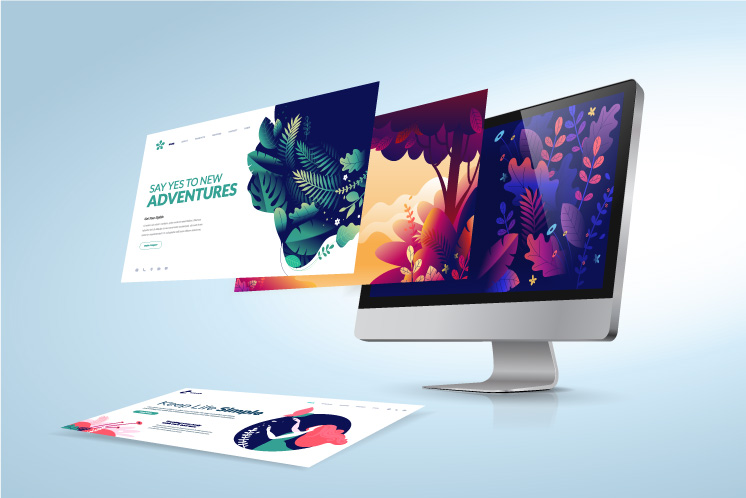 1. 3D Design
Using 3D elements in web design is immersive and engaging. Already heavily used in the film and gaming industries, 3D designs can engage visitors to your site and elevate a level of interest in your brand.
2. Background Videos
The popularity of background videos within website design has been quietly growing. Using animation and video in the place of a static background can really engage your visitors. The moving visuals may keep their interest long enough to watch the videos and draw their attention to your site's vital content.
3. Minimalist Navigation
Everything today is smaller and simpler. Minimalist navigation lends itself well to smaller devices like smartphones and wearables. It also enhances the user experience and maximizes the time your visitors spend on your site. With minimal navigations, more time can be spent looking at your content as opposed to figuring out how to move around.
4. Asymmetric Layouts
The majority of websites have always used a grid structure for their layout. More and more designers today are moving towards more chaotic designs. Asymmetric layouts are unique and eye-catching. Expect to see more of these as a way to engage visitors and showcase brands.
5. Custom Images Mixed with Photography
The layering of custom graphics over sharp photography is a style seen more and more in web design. From collages to abstract concepts, the technique can be used to showcase top products or lend more personality to your brand. It can also be used to convey any emotion you want to evoke from cute and warm to urgent and edgy.
6. Imperfections with Flair
Design elements that are hand-drawn are gaining popularity by bringing real humanity to websites. After years of flawless sites, it's nice to see something more personal and heartfelt. From video scribble presentations to hand-drawn icons and headers, these imperfect styling elements can convey to your site visitors that your brand is genuine and welcoming.
With the beginning of a new decade and a changing, more remote world post COVID-19, it is obvious that big changes are coming in website design. To learn more about our services and how we can help your small business with a web design that stands out among the competition, contact us at Igniting Business today!