4 minutes reading time
(832 words)
6 Innovative Web Design Trends for 2022
As technology continues to evolve, new web design trends emerge. Throughout the last couple of years, ongoing events like the pandemic, the increased use of mobile devices, surging online purchasing behavior, sustainability issues, and the increased pressure on privacy and safety have pushed different innovations to develop and evolve.
When it comes to your small business, it is essential that your website design is able to adapt to any anticipated changes to ensure your small business stays relevant and ahead of the competition. Keep reading to discover several innovative web design trends emerging in 2022.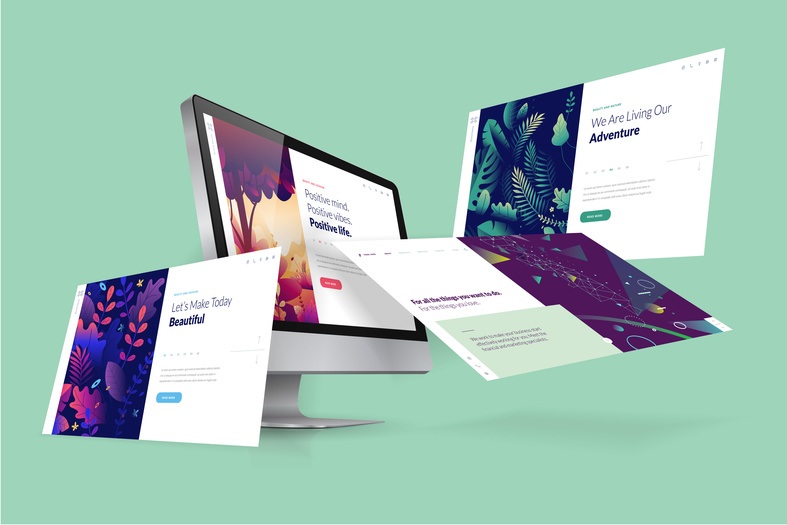 1. Visible Borders and Sections
Throughout the past few years, web design has been steered towards creating an illusion that content appears neatly arranged, held by an invisible hand, or floating on an imaginary digital space. However, the reality is all websites occur on a strict, yet dynamically responsive, grid held by coding. In 2022, website designs with more realistic layouts revealing simple and subtle borders and frames may emerge. Note that these borders can be in the form of asymmetric or symmetric line art, shadows, or bands of color and imagery.
Visible borders help to distinguish one section from another, allowing for more content within a single page, while also making it easier for users to scan the page.
Check out LiquidWeb's home page which showcases visible borders in the format if line art, color variations, images, and more.
2. Engaging Interactives
In the past years, websites have kept ramping up animations and interactive showcases to help boost visual innovation and increase dwell time. More website designs in 2022 may turn to even larger-scale animated interactions to present a bit of mystery and encourage more meaningful page engagement, such as dynamic content triggered by clicking, dragging, and swiping.
For example, check out this Kitchen Cabinets page which allows you to drag a slider to see before-and-after overlayed on the same image.
3. Moving Type/Interactive Fonts
Within web design, typography can do more than deliver information. It can also be used to attract users and move them along the page. In 2022, this idea goes further with literal moving types and interactive fonts.
Small touches of moving type and interactive fonts, such as side-scrolling, typewriter animation for changing out words, circular rotations, and shrinking or growing text, allow the typography (and important information) to take center stage while still maintaining legibility.
Check out the typewriter effect for changing out words at the top of this Zoho Campaigns page.
4. Creative Scrolling Experiences
Scrolling is the most basic and common type of engagement users have with a page. In 2022, the scrolling experience is getting bigger and better than ever before as users encounter various imaginative experiences. Scrolling animations such as triggered parallax effects, detailed imagery, and breakthroughs into the third dimension entice website visitors to scroll through the entire page, while keeping them focused on key content along the way.
Note that in this example, you can see multiple design elements animating and interacting as you scroll down the page.
5. 3D Design Elements
Various web designers have already tackled full 3D design elements for completing websites in 2020 and 2021. The emerging 3D design trend in 2022 allows designers to incorporate 3D elements into a flat overall aesthetic. It will include shadows, animations, or layer effects, creating depth and dimensions.
To see animations in action, this Office Remodel page utilizes flip cards that reveal more information in a 3D animation when hovered or tapped.
6. Animated GIFs or Short Videos in Lieu of Images and Long-form Videos
Marketers and web designers alike have long been promoting the use of rich media (images, videos, etc.) within website content. However, embedding long-form video content can be costly to your page load speed, not to mention losing the attention of your audience if the video is too long.
Similarly, images are fantastic, but they can't show the true benefits or features of the product or service other than a static 2D perspective.
To tackle both of the above complaints, you will likely start to see more short, animated GIFs or short videos played on a loop that show off a feature or benefit. Note that these likely do not contain/play any sound and are only a few seconds long.
To see an example where these GIFs and short videos excel, check out Canva's home page which highlights the graphic design platform's features as you scroll down.
Contact Our Web Design Team
In 2022, the goal is to stand out among the millions of websites available in the online world and leave a positive lasting impression. At Igniting Business, we can help your small business build a new, trendy website to keep you ahead of the competition. To learn more about our website design services, or to schedule a free consultation, contact us today!
At no additional cost to you, we may receive a commission if you click on some of the links on this website and make a purchase.