Introducing Candy Bouquets of Columbia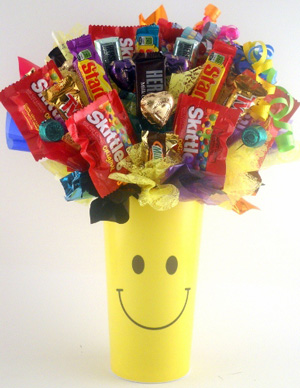 Candy Bouquets of Columbia began as a small home-based business catering to Mid-Missouri hospital gift shops. This business model afforded Dana Van Cleave, founder and owner, the privilege of being able to stay at home with her son. Together, her mother, her son Chas, and Dana also participated in the craft show circuit. Through these opportunities, they met other small business owners from all over the country, learned a lot, and had a great time! As Dana saw her son grow, so did the business.
In 2011, Candy Bouquets of Columbia launched their website directed to the Columbia community. They began delivering in the Columbia area and soon became a hit with parents of Stephens, Columbia College and the University of Missouri students. Their candy bouquets offer a unique, affordable gift idea perfect for any occasion. The bouquets are made with popular chocolates, cookies, and snack items, also available in sugar free. It is their pleasure to entertain special requests to make your gift truly unique.
Expanding the Business

Once Dana discovered her company needed an online option to continue growing, Igniting Business designed and created www.CandyBouquetsColumbia.com, a professional and effective website to sell their candy arrangements online. For Dana and her company, it was very important to stay within a small business budget. Dana mentions "Ben Seidel listened closely to what I wanted and designed the site according to my needs, leaving room for growth."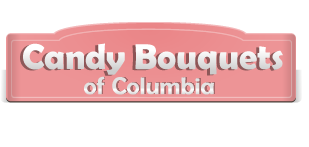 The website allows the customer base of Candy Bouquets of Columbia to order directly through the website with an online payment portal. Customers can even include personalized messages and customize certain bouquets! The website also allows Dana to personally edit current listings and add new bouquets whenever necessary. Through CandyBouquetsColumbia.com, they are able to offer their unique arrangements from their family to yours with a click of a mouse.
Chatting with Dana Van Cleave
Igniting Business (IB): Candy bouquets are a unique niche of the gift industry. What were the initial reactions to the bouquets of friends and potential customers, and in what creative ways do you encourage customers to try giving your products?
Dana: My customers are truly amazed that miniature candy bars can be used to create beautiful arrangements. They are also surprised to know that candy bouquets can be tailored for almost any occasion: birthday, graduation, get well, holidays, or general appreciation. I try to encourage my customers to call me with special requests so we can offer a gift that is inspired by the gift giver. What you see featured on our website is only a sample of what we can do for you.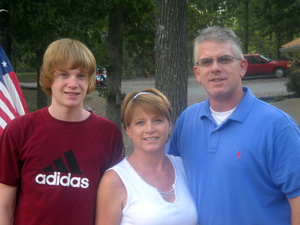 IB: With the holiday season right around the corner, do you expect an increase in demand? Are there any other typical seasons that keeps Candy Bouquets of Columbia more busy?
Dana: The candy season begins in the fall of the year and progresses at a steady pace through the winter holidays and Valentine's Day. We may be able to take a quick breath before spring and Mother's Day. We have seasonal arrangements all year long.
IB: As we have noticed with prior blog features, online retail can present a set of new and unique issues. What challenges have you faced selling your products online?
Dana: The challenge I have selling online is many of my customers want us to ship our arrangements. We are currently exploring shipping options and plan to offer this service when we can guarantee that our product arrives intact and that the chocolates do not freeze or melt. It is important to us and the customer that we deliver exactly what they ordered.
IB: What marketing strategies have worked well for Candy Bouquets of Columbia, and are there any new marketing tactics you are considering?
Dana: Our goal has been slow, steady growth. We do not spend much money on advertising so we can offer our arrangements at a very reasonable price. By delivering a high quality product, we have steadily increased our customer base. This is consistent with our goal of remaining a small, family owned and operated business serving the Columbia area.
IB: Family seems to be an integral part of your company. Do you have any advice for small businesses trying to stay true their family values and roots?
Dana: This business came into being 15 years ago so my husband and I could take turns being full-time parents. Although I initially took a significant pay cut, it is a choice we will never regret. To stay true to your family values you have to grow the business slower at times than you might like. My advice for small businesses with the goal of spending more time together is to be patient. As you grow, make sure as a family your needs continue to be met. Remember, your rewards are not always financial.
IB: Most people find it difficult to be around candy and not give into eating it. Is it ever a challenge working with delicious chocolate and candies all day?
Dana: No, I will occasionally indulge in a piece of dark chocolate, but I do not have much of a sweet tooth. Chuck and Chas will test any new chocolates for the sake of quality control and are satisfied.
Check out Dana's delicious Candy Bouquets for every season.