Introducing Active Vitality

Mason Stevens, founder and owner, started Active Vitality in 2008 as an alternative to personal training. Active Vitality is Columbia, Missouri's premier provider of evidence-based, research-driven exercise and nutrition programs. It specializes in serving clients with clinical exercise needs, but work with a variety of individuals including athletes and the general exerciser. In addition to promoting healthy lifestyle on an individual level, Active Vitality provides wellness services for companies and community organizations.
Mason began working as a personal trainer in 2004, while completing his bachelor's degree in Nutrition and Exercise Science. Since then, he has gained further experience in corporate wellness, spinal rehab, cardiac and pulmonary rehab and medical fitness. He originally obtained certification as a Certified Personal Trainer, but has since achieved the Certified Strength and Conditioning Specialist to prepare athletes for their sports. Most recently, he became a Clinical Exercise Specialist, a certified healthcare provider that specializes in treatment of cardiac, pulmonary, and metabolic conditions.
Mason's goal is to provide clients with an exercise experience with a firm foundation in evidence and solid theory. Education is at the core of Active Vitality's practice. Mason strives to maintain the highest level of education so that he can share that knowledge with his clients.
Taking Business to the Next Level
In Mason's words, "Igniting Business created the perfect website for my business." The site has been a great tool in helping Mason get his message out to the public, especially the blog. Igniting Business has also helped incorporate social media into the site and further drive traffic to the company. Mason looks forward to having Igniting Business help with printing and t-shirt design projects in the future.
Chatting with Mason Stevens
Igniting Business (IB): As a younger company in Columbia, what goals do you have for your company in the near future, as well as some of the long-term goals?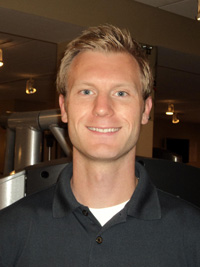 Mason: When I started Active Vitality, I realized that Columbia was lacking exercise options for individuals with health risks and complications. My immediate goal is to reach those clients that the traditional exercise environment has not been able to adequately serve. Active Vitality also offers the highest quality exercise prescriptions for athletes and the general exerciser. Long-term, I strive to help our community realize the value of evidence-based exercise and nutrition services, and become Columbia's first choice for health and fitness.
IB: Fitness and wellness techniques seem to change and evolve throughout the years. How do you stay current with any recent improvements in the field, and how do you balance that with the pre-existing perceptions of your clients?
Mason: One of the most exciting, and equally challenging, aspects of the fitness field is that it is ever changing. I actively search for the most current research in the health and fitness field. As a member of the National Strength and Conditioning Association (NSCA) and American College of Sports Medicine (ACSM), I have access to the most cutting-edge information as it comes out. I also complete numerous continuing education opportunities each year, including webinars, conferences, and workshops.
One of the best ways that I have found to keep my clients informed of these changes is to update them with the research that I find. I regularly post new findings to Facebook and Twitter.
IB: Do you have any advice for small business owners who find it challenging to take time out of their hectic schedules to exercise and practice healthy habits?
Mason: Lack of time is the most common reason I hear for not being able to exercise. It seems like the simple solution is to make time for healthy habits, but we only have 24 hours in a day. A more realistic solution is to prioritize time with a written schedule at the beginning of every week. Take a look at your calendar on Sunday night and pencil in a 30-minute block of exercise on most days. You can take the same approach to healthy eating. Plan your meals and make out your grocery list on Sunday so that you have healthy ingredients ready for the entire week.
IB: Does technology play a role in your day-to-day activities? If so, in what ways have you learned to use emerging technologies to the benefit of the company and your clients?
Mason: The invention of the app has definitely had an impact on fitness. There are iPhone and Android apps for running, yoga, calorie counting and much more. One of my favorite running apps is iMapMyRUN. It tracks distance, pace, and elevation. The app also allows others to monitor running progress online, in real-time. This feature makes it possible for me to keep up with a client's run even when I am not there. Body Fitness is another app that can help clients when they are working out on their own. It provides strength-training routines that can be tailored to an individual's goals and fitness level. MyNetDiary and Calorie Counter are both good apps for keeping track of nutritional information.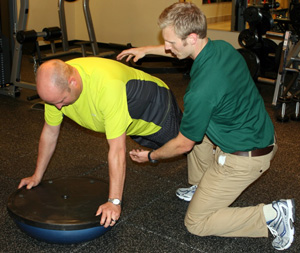 IB: Do you have any recommendations of how companies can encourage or incentivize their employees to practice healthy and fit lifestyles?
Mason: Evidence shows that healthy employees are productive employees. If companies want their employees to be healthy, it is important that they create a healthy culture at work. Employers can have healthy options catered in for meetings and parties. They can sponsor employee teams for charity 5ks and other races.
At Active Vitality, we help foster this active, healthy culture by providing companies with presentations on exercise, healthy eating, and stress management. We also help employers incentivize healthy lifestyle by organizing fitness challenges. Companies typically choose to reward participating employees with prizes, additional benefits, or even discounts on insurance.
IB: Do you have any suggestions for delicious, yet healthy, snacks or desserts that we could try?
Mason: This time of year, it can be difficult to eat healthy, especially at holiday parties and meals. I encourage clients not to make any treat off-limits. Instead, try to practice moderation. Have a little bit of your favorite foods, but try not to over indulge. One strategy that helps avoid holiday over-eating is to try not to go to a party or meal hungry. Have a healthy, high fiber snack and hour or two beforehand.
Fruits and vegetables make great snacks whether you're filling up before a party or bringing a dish. Try a platter of mixed raw vegetables and hummus dip instead of sour cream or ranch dip. Fruit kabobs, with low-fat yogurt for dipping, make a great, healthy dessert.