Introducing GolfSo
Created in 2010, GolfSo is an online social networking platform that connects local golfers with other local golfers and the golf industry. GolfSo hopes to become a valuable resource for golfers and the golf industry in Mid Missouri. Golfso believes that connecting golfers is the key to growing the game of golf in Mid-Missouri. GolfSo's website includes information on all the local courses and driving ranges; blogs written by industry experts about instruction, reviews, travel, and much more; networking with friends through user's very own profile page; and access to information on all the local golf events. Ultimately, GolfSo is a network of fellow golfers, from beginners to experts, who want to enjoy and share the great game of golf with others.

Randy Minchew, founder of GolfSo, started playing golf in 1979 and has been addicted ever since. His favorite aspects are the camaraderie and making new friends. He only began to play competitive golf the last few years and now enjoys the adrenaline rush of playing golf with added pressure. Corbin Umstattd, co-owner of Golfso, has been playing golf for about 15 years. He met some of his best friends on the golf course and at one point, before moving to Columbia, was very close to turning his passion for golf into a career. Likewise, he has always had a similar passion for being an entrepreneur. Corbin attributes this to growing up in an entrepreneurial family and having the freedom to create his own path in life.
Recent Website Launch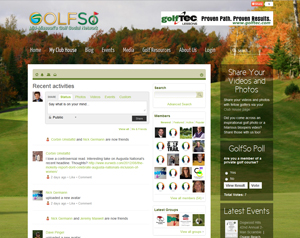 GolfSo.com is one of Igniting Business's most recent website launches. Golfers can connect with other local golfers at www.GolfSo.com, using the clubhouse social networking features. Corbin credits Igniting Business to being "extremely talented when it comes to communicating with non-technical business owners." He feels the importance of this should not be understated for making the entire process easier. Randy also felt that the Igniting Business team understood which questions to ask. When it came to timelines, both Randy and Corbin felt Igniting Business were very accommodating with minimal meetings, yet still felt like GolfSo "knew what was going on with the project from start to finish." As GolfSo continues to grow, we at Igniting Business look forward to the potential of adding new features to the website and providing supplemental marketing and advertising services.
Chatting with Randy Minchew and Corbin Umstattd
Igniting Business (IB): What inspired you to create GolfSo.com?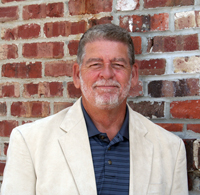 Randy: I was frustrated over a couple of things related to golf and the trouble that I had getting a golf group and a tee time coordinated each week at different courses. The first problem was this: How do I get a tee time on every ones calendar and invite new people to join us and get an RSVP soon enough to know how many players we have for the tee times I had set? The second problem was: People are not playing enough golf. I own a construction company, and I am always in peoples' garages during the estimation and remodeling process. The number of people who had relatively new bags and golf clubs with dust and cob webs on them surprised me. I wondered why these folks don't play more golf. I saw these things as solvable problems and I thought that technology could assist me in the effort.
I decided to use a platform site called Ning to build a social website for my golfing buddies to use as a way of communicating tee times and locations, or posting the need for additional golfers for an outing. I kind of liken it to a golf-dating site, where you can match up golfers with other golfers. I would never tell golfers that it is a golf-dating site, but sometimes in life we lose a golf buddy or we move to a new city and don't have any playing partners. I see this as a reason some golfers quit the game.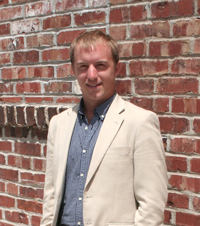 Corbin: I wasn't around when GolfSo was created, but moving forward there is a big issue we are trying to solve within the golf industry. From a local standpoint, we've noticed that the entire golf community is disconnected not only within the golf community itself, but also with everything outside of golf. There are a number of different pieces to the mid-Missouri golf puzzle that we are trying to bring together on GolfSo and get them interacting with/learning about each other. We feel that providing great content and a connection to resources will move us in the right direction to solve this issue.
IB: What would you consider the best feature about GolfSo.com? Do you have any specific ideas of how to add to the site in the future?
Corbin: I would say the blog portion of the site is the best feature. The population of great content will hopefully keep the golfers coming back to the site. Also, this allows local experts in the golf industry to become a valuable resource to the golf community and share their knowledge and love for the game. In the short term, we are looking at being able to provide our golfers with savings at courses and local retailers through the website.
IB: As GolfSo grows, what marketing practices do you plan to implement in order to continually reach potential members?
Corbin: Giveaways through social media platforms, a monthly GolfSo newsletter, annual golf tournaments, a golf magazine, signage at golf courses and retailers, GolfSocials (events), and video interviews with local industry experts, to name a few.
IB: Being serial entrepreneurs and this being only one of your many projects, how do you balance your time between many different ventures?
Randy: Corbin and I are behind the scenes and we are intentionally not the face of any of the new startups. We find really bright, motivated, and skilled people to partner with us on every company. We take care of the backend details and all the non-glamorous stuff.
Corbin: As Randy mentioned, we have found great success is doing what we do best, and allowing those around us to do the same. It's a great feeling to give extremely talented and passionate people the tools they need to succeed, and step back while they create amazing products and services.
IB: Are there any tricks or habits that you would recommend to other entrepreneurs regarding time management?
Randy: The biggest problems I see in business is wasted time and energy, and too many assumptions. The cancer of most startups is a lack of innovation and creativity. Most startups will stall early and die, because the people behind the startup become afraid or get greedy. Greed and ego will kill creativity and authenticity. The inability of people to be authentic and share with the team is a killer, and we see this over and over. People are not prepared mentally or emotionally for how hard it will be to be open and honest with a team.
Corbin: Google Calendar!
IB: Do you have any advice for small businesses, especially those trying to adapt to ever-changing technology trends?
Randy: I would suggest that someone on the team be in charge of environment and keeping a finger on the pulse of creativity and open dialogue. Someone has to understand how to spot the cancer that will tear the team apart. The team won't last if folks aren't valued and edified.
Corbin: Treat your customers/clients with a great deal of respect and you'll be surprised what they can do for you in return. As far as keeping up with technology, don't live outside your budget, and just because it's the new trend doesn't necessarily mean it's right for your business. Do your research and stay informed with what all is out there and how it can benefit your company.
IB: There are probably plenty of golfing highlights in each of your golfing careers. But are there any worthy of "America's Funniest Home Videos" that you would like to share?
Randy: I hit a low punch shot out from under a tree and the ball hit a stump or a root and flew up and hit me in the chin. I would say the ball was traveling near 70 mph and almost knocked me out...pretty funny today...
Corbin: I was playing a downhill par 3 that had a pond between the tee box and green. The pond was right at the bottom of the hill. The cart path ran in a straight line from the tee box to the pond. I failed to press in the brake on the golf cart and as we're walking to the tee box the cart takes off down the hill headed right for the pond, with all our stuff on it of course. Luckily as we're sprinting downhill after it, the cart runs into a tree halfway down.
Check out the many features of GolfSo and sign up for your free account by visiting www.GolfSo.com. If you have any questions or suggestions for the site, feel free to leave a comment for Randy or Corbin.