Display ads (also known as display advertising) are a type of visual online advertising that can be shown on websites that are a part of ad networks. Display ads are typically designed to be visually appealing and to grab the attention of viewers to promote a product or service. Display ads can be created in a variety of formats, including static images, animated images, and video, and they can be targeted to specific demographics or interests. One of the best parts is that display ads can be shown on websites where your audience is already spending time, whether that be a weather website, a news publication, or hobby website.
This form of advertising has become increasingly popular as a form of online advertising, and with good reason. Display ads have many advantages that can help small businesses reach their marketing goals. Check out some of the advantages of display advertising.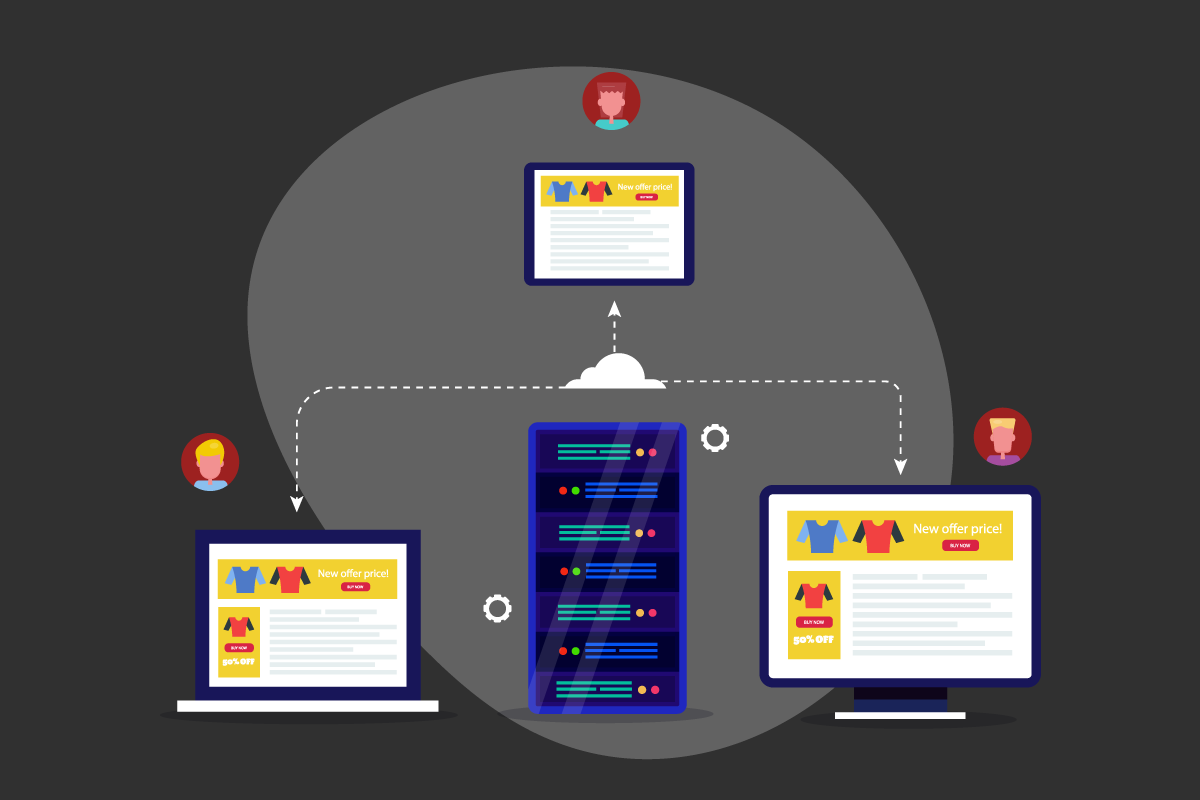 1. Visual Appeal
Display ads are visually appealing and stand out to users as they can contain attention-grabbing videos, photos, and animations. These ads help to draw in potential customers and increase engagement with your business or products.
2. Helps to Increase Brand Awareness and Visibility
Display ads are a great way to improve brand awareness for your business as they allow you to get in front of consumers before they require a specific product or service. They can be used to introduce people to your brand or remind them of your message. Display advertising also helps to create a more consistent presence for the brand and can create trust among potential customers.
3. Leverages Remarketing (or Retargeting)
Display ads can also take advantage of remarketing (or Retargeting), where the ads are shown to a visitor on other sites in the display network after they have taken a desired action like visit your website, social media platform, or the pre-defined step.
4. Potential to Reach Consumers on the Go
Another benefit of display advertising is its ability to leverage geofencing. Geofencing allows you to target specific geographic areas, such as your small business' location, and deliver ads to the mobile devices of consumers who enter your target geographic area.
5. A Chance to Disrupt the Competition
Display advertising can also be used to disrupt competitors. Using display ads, you can interrupt consumers thinking of doing business with a competitor by showing ads to those who have searched for a competitor's products/services.
6. Partners Well with Other Marketing Strategies
Display advertising works well when used in partnership with other marketing strategies, such as Google search ads and search engine optimization (SEO). Together, these tactics can help to increase brand awareness and visibility and can drive additional traffic to websites.
Tools to Improve Your Display Ads Campaigns
If you're looking to get started using display ads on your own, you can try out some of these tools to save time and improve your display ads.
Easily Create Graphics for Your Ads without a Graphic Designer
If you're looking to quickly create a graphic for your ad without hiring an expensive graphic designer, Canva can be an excellent tool! You can use Canva to create ad graphics from existing templates with an easy-to-use interface that makes graphic design possible even for non-technical users. Try out Canva for free.
Affordably Create Videos for Your Ads
We all know that video content can be very effective at grabbing viewers' attention, but it seems impossibly expensive, especially for small businesses. One of the resources that we have found useful is from a company called FATJOE. With FATJOE, you can have video 15 or 30 second video ads or longer video and explainer videos created for you at a fraction of the cost. Check out FATJOE's video production options and give them a try.
Affordably Purchase Stock Images and Video Assets
Sometimes you might need a stock photo or b-roll video to use within your display ads. One of our favorite stock libraries is Adobe Stock. You can sign up for an Adobe Stock account and get 10 photos or illustrations for free.
Contact Our Online Advertising Specialists
Display advertising can be an effective way to reach people with your message and can be used to drive awareness, increase website traffic, and generate leads. With the right strategy, your small business can receive superb results from display advertising.
At Igniting Business, we can help your small business identify display networks and online advertising strategies to help you reach your online marketing goals. To learn more about our online advertising services, contact us today!
At no additional cost to you, we may receive a commission if you click on some of the links on this website and make a purchase.