4 minutes reading time
(742 words)
5 Remarkable Benefits and 9 Tools for Content Marketing in 2023
To remain competitive in today's dynamic market, it is important for small business owners to utilize various digital marketing strategies. One of the most popular digital marketing strategies is content marketing. Keep reading to learn more about content marketing and the remarkable benefits a content marketing strategy can provide your small business.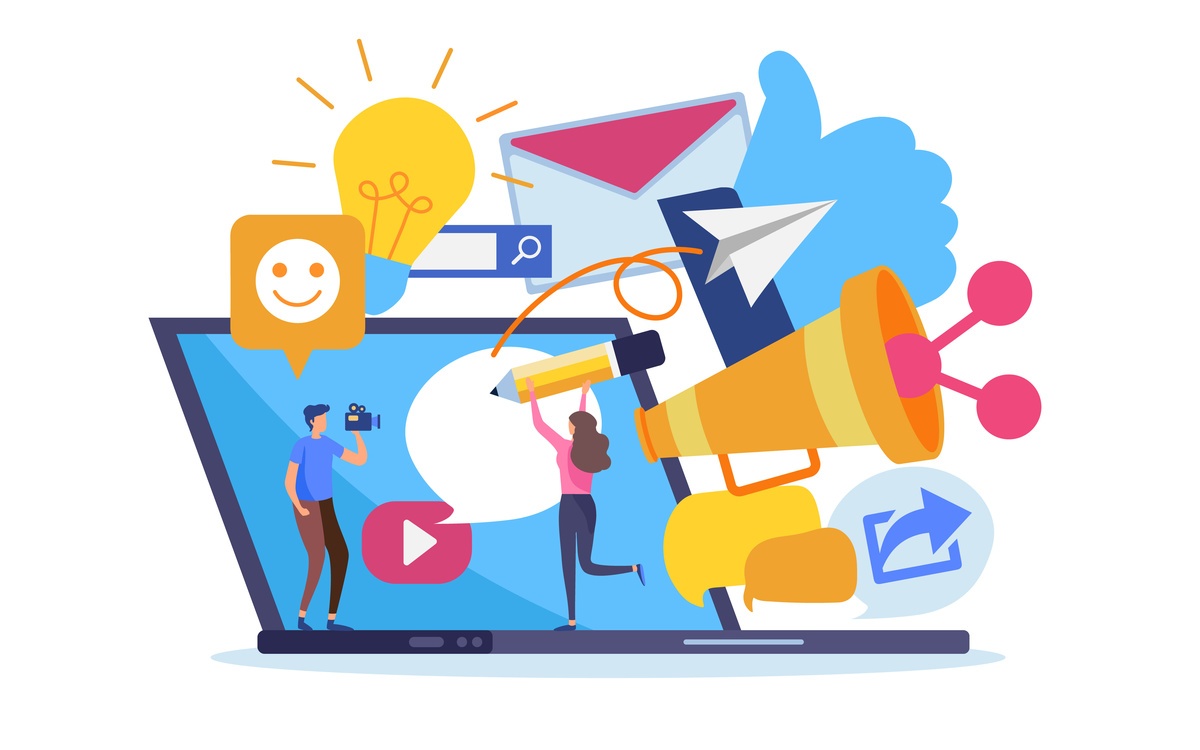 What is Content Marketing?
Content marketing is a marketing approach used to create and distribute educational and engaging content in different forms (i.e. blog posts, videos, guides, etc.), with the ultimate goal of eliciting valuable responses from the content. Benefits of content marketing include the following:
1. Optimizes Organic Search Authority and Visibility
Establishing authority is a key component in earning higher search engine rankings. Consistently creating high-quality, relevant content helps your small business establish authority and build brand awareness, leading to increased visibility in organic search results.
2. Increases Referral Traffic
The success achieved through content marketing increases the possibility of other website owners referencing and sharing your content, leading to referral traffic to your website. High-quality, highly-ranked content increases referral traffic, which can further add to your business' growing authority.
3. Promotes Social Engagement
Quality content that both educates and entertains is more likely to be read, liked, and shared, increasing your social media engagement. This increased social media presence puts your small business in front of more consumers and can lead to increased social engagement with your current and potential customers.
4. Creates Valuable Content for the Customer Journey
A well-defined and creative content marketing strategy can help you to create targeted content for each stage of the customer journey. This targeted content can help support consumers as they move through each stage, from prospects to paying customers.
5. Helps Reach New Customers Through Multi-Format Content
With quality content marketing, you can repurpose and reproduce your content in various formats to share across multiple platforms and further your reach and brand awareness. For example, a single blog post can be reproduced and shared in video or podcast format, as a social media post, or within your small business email newsletter.
Try Out Some Great Content Marketing Tools
Perhaps you already have a content marketing strategy in place, but you simply need some tools to make content marketing easier and more effective. The list below contains some of our favorite content marketing tools to help you at various stages of developing your content:
Content Marketing Research and Strategy Development
Deciding what content to produce can be a challenge! To help with the process, you can use a keyword/topic and content marketing research tool like Semrush. This tool can help you determine what topics are trending, how difficult they are to pursue, and where content gaps and opportunities exist amongst your competitors.
Creating and Editing Awesome Content
As you begin creating your content, the following tools can help you along your way! Try out the AI powered writing assistant called Grammarly, to edit your work for spelling and grammar issues, as well as maintain a consistent and engaging tone throughout your content. Additionally, you can use tools like Canva to create visual graphics from scratch to visually complement your content or purchase inexpensive stock graphics and images from Adobe Stock.
If you need a custom graphic created, you can try out 99designs where you can affordably hire a professional designer can create various graphics and illustrations. If you already have text content, but you want to turn it into an explainer video or an infographic, check out FatJoe's infographic design and explainer video creation services.
Distributing Your Content
Once your content is created, you want to make sure that it is distributed well. You can use Zoho Social to craft, schedule, and monitor engagement for your social media posts across multiple platforms. Additionally, MailChimp can be used to create and send an educational newsletter to your target audience. Finally, your content can also be re-purpose into print materials using an affordable print service like Vistaprint.
Contact Our Content Marketing Experts for Professional Help
If you're looking for professional help, our content marketing experts at Igniting Business can help guide you through the creation of an effective content marketing strategy for your small business. For more content marketing tips, subscribe to our newsletter! To learn more about our content marketing services, contact us today!
At no additional cost to you, we may receive a commission if you click on some of the links on this website and make a purchase.