8 minutes reading time
(1586 words)
How to Improve Your Website's E-E-A-T (EEAT) and 5 SEO Mistakes to Avoid
You have probably heard of Google's E-E-A-T (or "Double-E-A-T"). The concept has been around since 2014, though it used to be just E-A-T until Google added a second "E" on December 15, 2022. E-E-A-T has become a vital SEO concept that businesses cannot ignore. Unfortunately, EEAT is also a term that confuses many people.
Read on to find out what E-E-A-T is, its importance, and the mistakes you should avoid if you want to improve your website's E-E-A-T.
What is E-E-A-T?
E-E-A-T is an acronym that stands for Experience, Expertise, Authoritativeness, and Trust when it comes to the content you produce and your website's overall credibility. The term was coined by Google to help its search quality raters evaluate websites and their associated credibility. Ultimately, your content should demonstrate E-E-A-T to show your overall credibility to the Google search engine algorithms.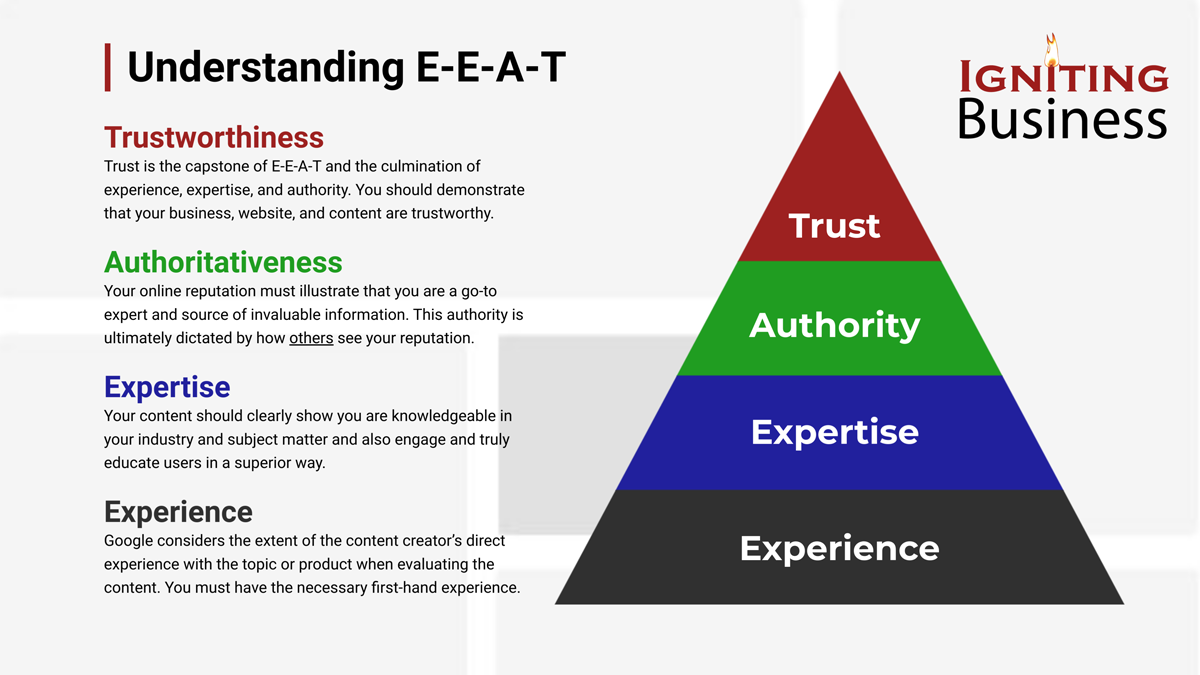 To simplify the concept, we've provided brief descriptions of each element of E-E-A-T. Of course, if you want to go even more in-depth, you can check out Google's Search Quality Evaluators Guidelines to see how Google explains E-E-A-T to their search quality raters team.
Experience
Experience is the second "E" that was added in December of 2022. Google considers the extent of the content creator's direct experience with the topic or product when evaluating the content. Understandably, Google wants to see that the content creator has the necessary first-hand or "life experience."
For any topic you author, you should ask yourself if your readers (and Google) would consider your depth of experience enough to be qualified on the topic. If so, write away and be sure to cite your first-hand evidence and experience (firsthand stories, data, studies, videos, etc.) within your content! If not, consider drafting content on a different topic for which your knowledge is more suited.
Expertise
Your web presence needs to demonstrate that you are a notable expert in your field. Your content should clearly show you are knowledgeable in your industry and subject matter and also engage and truly educate users in a superior way.
You can demonstrate your expertise by showcasing relevant education, licenses, certifications, depth of knowledge, awards, etc. All of which needs to be tied directly to the content you produce in a manner that is easy to discover for both readers and search engines alike.
Authoritativeness
Unfortunately, it is not enough to simply show your expertise by bragging about your credentials and accolades. Your online reputation must illustrate that you are a go-to expert and source of invaluable information in your industry. This reputation is ultimately dictated by how others see your company and to what degree they express that trust through links, mentions, and more. For example, if you are quoted in a relevant news publication or co-authored an article in an academic journal, those can both be seen as a boost to your authority.
One can establish authority by engaging in industry relevant online communities and publications, creating valuable content to which others link, and more. Keep in mind that establishing authority cannot be faked, and it ultimately takes time, dedication, and effort.
Trust
Finally, Trust is the culmination of experience, expertise, and authority. You should have a trustworthy business, website, and content. Make sure your content is accurate, implement proper web security practices, proactively collect and respond to reviews, and have sufficient contact/support information to promote trustworthiness.
Additionally, be sure to avoid any conflicts of interest that could diminish your trustworthiness.
The Natural Overlap Between E-E-A-T Elements
As you can see, there is a tremendous amount of overlap between all four elements of E-E-A-T. When you're looking to improve one element of E-E-A-T, you are likely impacting another. For example, when others link to your critical first-hand experience and in-depth analysis, this can boost both your authority and overall trust.
However, the concept remains that you must have all four elements clearly demonstrated for your content to be seen as quality and trustworthy.
Why is E-E-A-T Important for SEO?
E-E-A-T is important for SEO because it can directly affect how your site ranks on Search Engine Result Pages (SERPs) for keywords and phrases that your customers may be using to find vendors. For example, if Google finds that your site has a lot of spelling and grammar errors, the content is poorly researched or contains false information, or you lack the experience to sufficiently cover the topic, then your content will not likely rank as well within Google's search engine.
If your rankings fall, you will receive less traffic from search engines and, subsequently, fewer conversions and sales. For this reason, you should ensure that your online presence demonstrates E-E-A-T.
Mistakes to Avoid for Improved E-E-A-T
While there is not a perfect checklist for improving E-E-A-T, we do see several common errors that small businesses and marketers alike make. The following are five of these mistakes you should avoid in order to improve E-E-A-T.
1. Lack of Transparency of Content Authorship
It is critically important that both search engines, like Google, and visitors understand who is behind the content on your website. The Who is not just the website/company, but also could include the actual author(s), editor(s), and fact checker(s) of the content.
To prove that the content was authored credibly, be sure that authorship details and credentials are clearly shown for your articles. This includes stating the author and linking to their robust bio which should contain relevant credentials, experience, awards, etc. This is even more critical for businesses that fall into the YMYL (Your Money or Your Life) category.
2. Poor or Elusive Customer Support
If your customer support is unreliable or hard to reach, you have got a significant problem. Quality customer support is a vital element for your customers to feel safe. Make sure it is clear on your website where, when, and how customers can get support from your business. If you do not offer 24/7 customer support, be sure to indicate how the visitors can reach you if an emergency arises.
As a natural outcome, the quality of customer support, whether good or bad, typically is revealed through reviews on the web about the company.
3. Failing to Address Bad Reviews
Online reviews help build your E-E-A-T and overall trustworthiness. If you have a consistent stream of positive reviews on relevant review sites, it shows that your organization is trustworthy. However, you should not only respond to the positive reviews but also the bad reviews. Promptly responding to and addressing low rating reviews may boost your trustworthiness as you address customer concerns with professionalism and empathy.
4. Adding Meaningless or Out-of-Scope Content to Your Website
Content is king, but you should never fill your site with meaningless or off topic content. You should always write your content with your users in mind.
If your users do not find the content engaging or relevant, your site will not get attention.
If you write about off-topic concepts that you have no expertise to cover, your website's content will likely not rank well.
Additionally, ensure you create content that meets the needs and interests of your target customers. Instead of boring your users with generic content, keep your content thorough and informative, yet easy to browse. Produce well-researched, unique, and helpful content that your audience will want to read and share your valuable information with others.
Google even rolled out a Helpful Content System in 2022 to better understand and identify helpful content.
5. Paying for Backlinks
Getting links through unnatural means will only lead to failure. Google discourages any link-building schemes. Write user-friendly, authoritative, and high-quality content that will earn your site links naturally or through relevant outreach.
Do not fall into the trap of buying links from sketchy black hat link building services.
Bonus Tip: Your About Us Page Matters
If you ask any web designer, they'll tell you that clients struggle when producing content for their About Us page. Yet, Google specifically lists the About Us page as a critical page to evaluate the company's history and relevance for the topic at hand. The About Us page acts as your first chance to show your credibility. So, do yourself a favor and beef up your About Us page's quality and depth!
Assess your E-E-A-T and SEO
Now you know what common mistakes you should avoid if you want to improve your E-E-A-T. If you need help improving your E-E-A-T and boosting your visibility, Igniting Business' SEO experts may be able to help. Contact us today to schedule your initial consultation.
SEO Tools for the Job
Perhaps you are a do-it-yourselfer and simply need a few recommendations to make your job easier. Two of our favorite SEO tools that can make assessing your SEO, E-E-A-T, and content easy are the following:
BrightLocal – You can use BrightLocal to track your website's local rankings, manage local citations, gather and respond to reviews, and more. Get a free trial of BrightLocal.
Semrush – Semrush is a phenomenal, robust SEO tool that you can use to conduct in-depth keyword and topic research, audit your site's SEO elements, perform backlink research and building, assess content quality, and more. Try out Semrush for free.
Sign Up for Our Newsletter – We release a free monthly newsletter that covers various topics including more on E-E-A-T, SEO, digital marketing, web design, and more. Subscribe to our newsletter for free.
At no additional cost to you, we may receive a commission if you click on some of the links on this website and make a purchase.