3 minutes reading time
(694 words)
How to Create Attention-Grabbing Social Media Graphics to Improve Engagement
When it comes to your small business' social media pages, your content should be attention-grabbing and interactive. No one wants to be scrolling social media just to read long blocks of text all day long. In fact, research conducted by BuzzSumo shows that Facebook posts that include images receive 2.3 times more engagement than posts without images.
Quality, captivating images and graphics draw the attention of your target audience on social media. They tell a larger story within a more limited space than words ever could. You can express emotions, intrigue your audience, and even boost customer loyalty through the use of images and graphics. Ultimately, your success at using images for social media trickles down to how you choose/create graphics.
Additionally, social media algorithms reward content that is highly engaged. That engagement could include anything from clicking on the image to see a lager version, liking/tweeting the image, sharing the image, and more. This is a bit of a catch-22 because the more engagement you get on the graphic, the further your reach expands to more eyeballs! Anything you can do to your graphic stop people in their tracks and encourage them to engage/interact will exponentially magnify the impact of your efforts
Keep reading to discover how your small business can create attractive graphics to improve your engagement.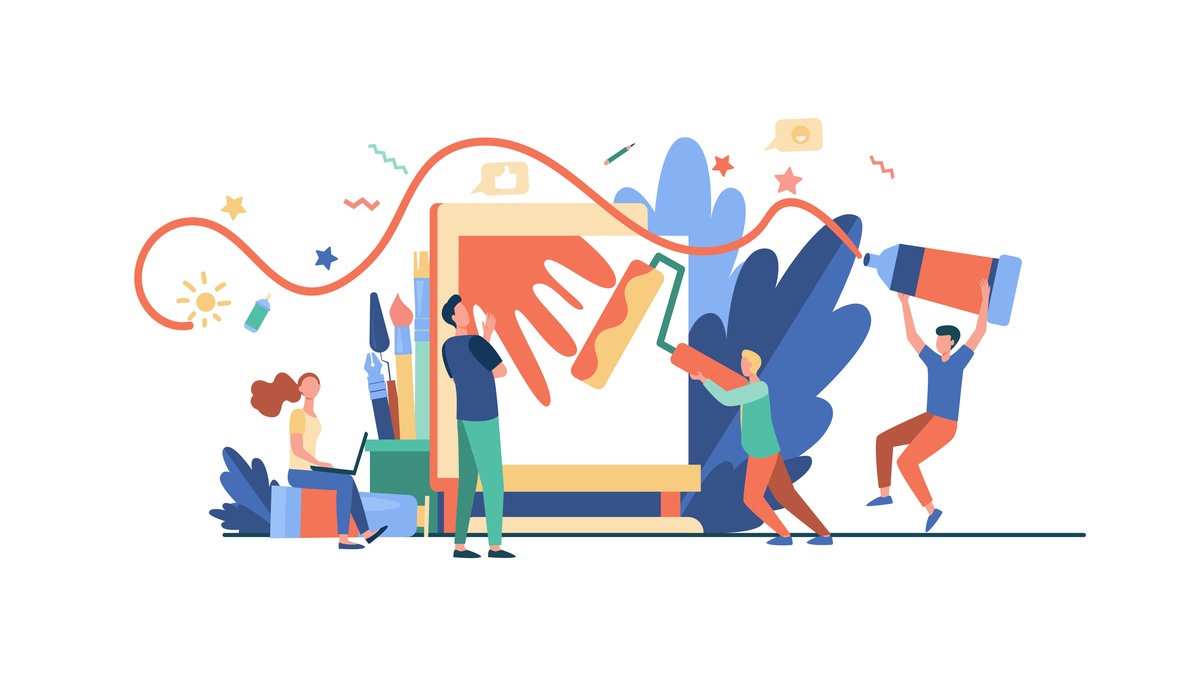 10 Easy Tips for Creating Hard-to-Ignore Graphics
To create hard-to-ignore graphics, keep the following tips in mind:
Create graphics that are consistent with your branding. Do not forget to incorporate your company colors, logo when appropriate, and any subtleties of your brand.
Images and graphics should be creative enough to capture the attention of your target audience but should not take away from your message.
Include fun typography within your graphics. Do

not

go overboard. Make sure the typography supports and emphasizes your message without creating eye strain or sensory overload.
Ensure your graphics feel as authentic and non-intrusive as possible. Your graphics should showcase the personality to your brand in a way that relates to your audience.
Incorporate high-quality images and graphics. Low quality images and pixelated graphical elements can give the perception that your company and/or its products and services are low quality.
Keep color psychology in mind. Different color selection can influence perception and attract attention.
When possible, use original photography. When impractical to capture your own photography, make sure any stock photography you use is properly licensed for commercial use and portrays your brand with as much authenticity as possible.
Use your graphic or image to educate or inspire your audience. The content you provide should educate your audience on a particular topic.
Integrate a clear call-to-action. The messaging you present should motivate your audience to take a specific action.
Make sure the final graphic you export is formatted for the target social media platform(s). This might mean exporting multiple versions that have their sizing and layout slightly tweaked for each platform. At minimum, ensure that your graphic is tested and works for your desired platforms.
Helpful Tools for Creating Quality Social Media Graphics
There are various tools available to help your small business create quality graphics. Tools such as Canva and Adobe Creative Cloud Express, are some of our favorites as they are easy to use, contain multiple features that help improve the overall quality of your graphics, and include various editing features.
Canva and Adobe Creative Cloud Express are excellent online design platforms that allow you to create quality graphics for your social media accounts quickly and easily. For finding images and additional specific graphics, Adobe Stock is a great resource for affordable high-quality stock photos.
Contact Our Content Marketing Experts at Igniting Business
At Igniting Business, our team is here to help your small business boost your online presence and improve your social media engagement. For more social media marketing and graphic creation tips, or to learn more about our content marketing services, contact us today!
At no additional cost to you, we may receive a commission if you click on some of the links on this website and make a purchase.