4 minutes reading time
(871 words)
5 Tips (and Handy Tools!) for Improving Your Local SEO Strategy
If you own a small brick-and-mortar business, it is essential to develop your local search engine optimization (SEO) strategy; otherwise, competing with other companies in your area can be challenging. Local SEO plays a critical role in putting your small business in front of local consumers and generating more conversions. Keep reading to discover five tips your small business should implement to help improve your business' local SEO.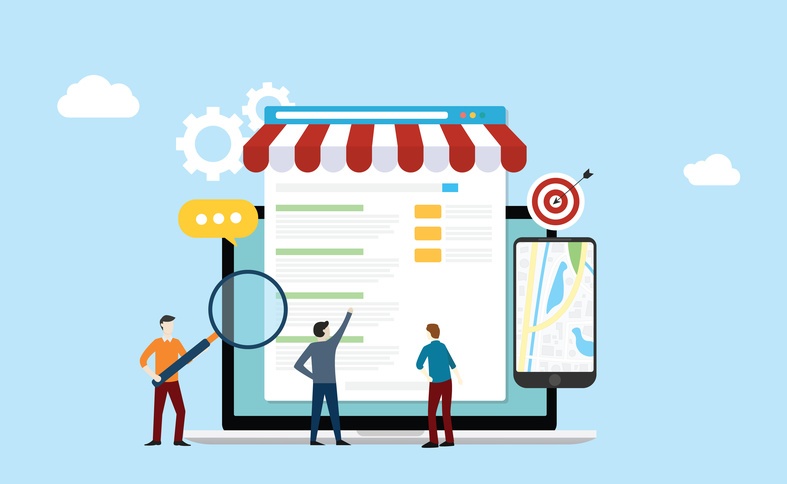 1. Add Location Pages to Your Website
It is important for your small business to have website content that provides information about your business and the products and/or services you provide, and including this information on a location page is a great way to improve your local SEO.
If you have multiple locations, create separate location page for each that provides an overview of your company, unique store descriptions, and how you serve each specific geographic area. Be sure to include your business' address, phone number, and store hours on these pages. You can even use Google Maps to create a custom map of your location. Consider adding relevant customer reviews to the page as well.
Creating separate location pages will help ensure that each of your small business locations appear in search engine results when relevant local searches are made. This location page structure also helps Google understand that you are a multi-location business vs. a single location that has simply moved to a new address or has mismatched information online.
2. Incorporate Local Content and Keywords
In order to improve your local SEO, it is also important to include local content throughout your website, such as information about your city or town that is ultimately relevant to your ideal customer. Incorporate location-specific keywords that your local target audience is likely to use when searching for businesses like yours in their area.
You can do this by adding blog posts, articles, and other content about your area, and by using local keywords, such as your city or town name and state, in your website's titles, meta descriptions, and throughout the text of your pages.
3. Claim and Optimize Your Google Business Profile (Formerly Google My Business)
Google Business Profile (formerly Google My Business) is a free online tool that allows businesses to create a profile on Google with information about their company, including address, phone number, website, business hours, images, product/service details, unique attributes, and more. It's important to claim and optimize your Google Business Profile to ensure your NAP (Name, Address, and Phone number) and other important information is correct.
This will help Google recognize and display your business when relevant local searches are made. Note that your Google Business Profile appears directly in the search engine result pages within the local pack, as well as on the Google Maps platform.
4. Claim and Optimize Other Relevant Listings
Note that it is also important to claim and fully optimize your listings on other platforms including Yelp, Bing, Apple Maps, and more. Additionally, there are often industry-specific and location-specific directories that can also be utilized. To assess your credibility, Google periodically scans these business citations to measure your presence and the consistency of critical business information.
If you need help monitoring, claiming, and optimizing your business directory listings, consider trying the Citation Tracker tool from BrightLocal.
5. Gather Reviews from Customers
In addition to having an optimized web presence, it is important to show both Google and potential customers that you are credible and can be trusted. One way to do this is by proactively gathering reviews from your customers.
We recommend, first and foremost, gathering reviews on your Google Business Profile. However, there may be other industry relevant websites that may also be important avenues to gather reviews. For example, attorneys may get reviews on Avvo or healthcare providers may receive reviews on Healthgrades.
If you would like to systematically gather reviews for your small business, consider giving our reputation management services a try.
Contact Our SEO Specialists
If you need help with your local SEO, Igniting Business is here for you. Our team can provide your small business with ongoing local SEO services, web design, and other services to help you grow your business' online presence. To learn more about our ongoing SEO services, contact us today!
Local SEO Tools to Make Life Easier
If you choose to work with an SEO agency, likely they have their own massive set of tools to help get the job done efficiently. However, if you are attempting to manage your local SEO efforts on your own, the tools below may make your efforts more fruitful:
BrightLocal – You can use BrightLocal to track your website's local rankings, monitor and claim local citations, submit business information to data aggregators, gather and respond to reviews, and more. Get a free trial of BrightLocal.
Semrush – Semrush is a wonderful, robust SEO tool that you can use to conduct in-depth keyword and topic research, audit your site's SEO elements, perform backlink research and building, assess content quality, and more. Try out Semrush for free.
At no additional cost to you, we may receive a commission if you click on some of the links on this website and make a purchase.